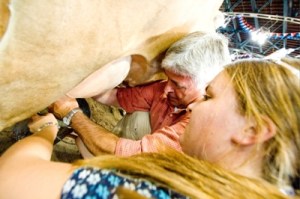 ALBANY—State Senator Darrel Aubertine seems okay with the idea of Republicans taking the chairmanships of several committees—even if it's one he currently controls.
"There have been some discussions internally about the possibility of expanding senators' roles in decision-making in the Senate; just being more inclusive and making sure everyone has a seat at the table," said Aubertine, who I found walking in a Capitol hallway toward his office. He said the discussions have not progressed "to the point of actually making any concrete decisions."
But he did not deny what I reported yesterday: that Senator George Maziarz, a Niagara County Republican, was being considered to take over the Energy Committee, which Aubertine now chairs. (A dairy farmer, Aubertine also chairs the Agriculture Committee.) I asked Aubertine whether he would be willing to let go.
"I think that any of us who believe in a bipartisan body would, because anyone who wants a much better functioning body realizes that inclusion is going to be a much better way to get there," Aubertine said.
Also, I called Senator Ruben Diaz Sr., a Bronx Democrat and sometime frustrationist whose unpredictability was a motivating factor in Democrats opening their tent.
"It's a good idea. It's a great idea. Because if we ever lose the majority, that means we would be able to keep some committees," Diaz Sr. said. "I congratulate John Sampson on doing this. It's good. It's okay."
UPDATE: Maziarz returned my call from yesterday, and said that he is talking to Democrats about the Energy Committee.
"Senator Sampson reached out and asked if I'd be interested, and I'd be interested," he said.