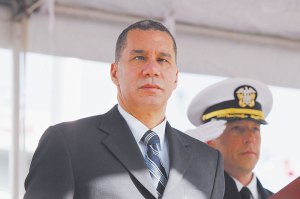 ALBANY—What is David Paterson thinking?
Polls show he's more than 40 points behind Andrew Cuomo in a Democratic primary, he's got next to no friends left in Albany and, in all likelihood, he'll be shown to have raised embarrassingly little money for a sitting governor at the next filing deadline in January.
So when he remains on the attack, going out of his way to antagonize the Legislature as he grapples with a projected $9 billion budget deficit; and when he continues to joke confidently at public appearances as if he doesn't have a care in the world; and when he says he running for governor no matter what—is it a prideful bluff? Is it a deluded but genuine commitment to making the race? Or is it something else entirely?
After all, any reasonable analysis of conventional political mores, historical precedent and the current political climate in New York tells us that it's all the result of a rational calculation, and that the governor is doing exactly what he has to do.
"If he's not in the hunt, it diminishes his capacity to do his job," said Gerald Benjamin, a professor of political science at SUNY New Paltz. "He has to stay in the hunt, even if he's not. The minute he announces he's a lame duck, he's a lame duck."
But other people in Democratic politics aren't sure.
"It's strange," said Bill Montfort, chairman of the Warren County Democratic Party. "It's strange that he keeps pressing on. But hey, you know, Spitzer thinks that he can make a comeback, too. I don't know. I have no idea. Nobody's committing to anything, even Andrew isn't saying anything. Nobody's committing to anything because they're waiting to see what this guy does, and he keeps going forward."
"He thinks he can turn this around," said Democratic consultant Hank Sheinkopf. "But look at Andrew Cuomo's numbers. How does he even get close?"
Certainly, the governor isn't acting like a politician who's too worried about his standing in the polls.
At a ceremony last Friday, when he signed a bill to provide more oversight of public authorities, he stood in front of a blue curtain at his Manhattan office, joined by Assembly Speaker Sheldon Silver as well as the bill's sponsors: Assemblyman Richard Brodsky, a Westchester County Democrat, and State Senator Bill Perkins, who holds the Harlem seat that Mr. Paterson vacated when he became lieutenant governor in 2007.
Mr. Silver seemed more dour than usual. That morning's Post contained a report of Mr. Paterson's saying he would urinate "when the Legislature is under me." (Marissa Shorenstein, a spokeswoman for Mr. Paterson, later said the quote was inaccurate. "Cindy asked the governor if he has pissed off anyone lately, and he said 'probably the Legislature.'") He had been denouncing lawmakers on talk radio for shirking their responsibility to address a midyear deficit, though members of Mr. Silver's chamber had quietly been ready to support some of Mr. Paterson's more severe proposals. The theme was repeated later in the week, when Mr. Paterson gave a speech to business leaders on Wall Street about his fiscal initiatives.
"So you were hanging out in my district," Mr. Silver grumbled next to a live microphone. "I heard you're going back somewhere else Monday, to Wall Street? The Stock Exchange? I own that."
"You own the Stock Exchange?" Mr. Paterson shot back. "Well, I have to make sure to have you come along."
Mr. Silver laughed disingenuously and the event began. Mr. Paterson's opening paragraph mentioned that Mr. Brodsky—long a champion of authority oversight—could now "die in peace."
Mr. Brodsky looked stunned, turning directly to Mr. Paterson and saying, "Happy Hanukkah to you, Governor." Reached by phone later, Mr. Brodsky declined to speak about the incident. (Later, in a phone interview, Mr. Brodsky said, "David uses humor for a number of purposes—because he likes to laugh, as a rhetorical tool, to make a point and sometimes as a defense mechanism. And it works most of the time. People who try to read stuff into the successful or failed jokes are not sensible and not fair to him.")
"It seems like he's taken some gloves off," said Assemblyman Keith L.T. Wright, the chairman of the Manhattan Democratic Party. "You have to be yourself, and I think he's being more of himself."
And "himself" is, according to several people close to the governor, a person who works best under pressure and pushes back when pushed. It is not desperation, the people insist, despite Mr. Paterson's occasionally erratic behavior. He is still fighting, with the perceived futility of his efforts seen (but not publicly admitted) by some of his closest allies but not by him. In fact, said one person who has seen Mr. Paterson recently, he has made the switch into "serious campaign mode."
"I think his head's in a good place, and what I mean by that is that I think he's geared up to run and he knows what it's going to take for him to be a winner come next year," said Bill Lynch, a political consultant who advises Mr. Paterson. "That's not a change. I think he's always been there, as far as I'm concerned. He's just stepping up his game."
As much as he can. After last Wednesday's Wall Street speech, Mr. Paterson held a fund-raiser at 24 Fifth, a cozy venue where he mingled with lobbyists over smoked salmon and soft licks from a jazz trio.
"I am running for governor in 2010!" Mr. Paterson told the room, according to someone in it. "If it doesn't work out, I'm going to go on The View. They need a little affirmative action on The View."
"I think the governor is focused on leading the state out of the fiscal crisis, and is concentrating all of his energies on that effort, and I think he is obviously reaching out and trying to give people confidence in his ability to lead the state through a very difficult time," said Kathryn Wylde, the president of the Partnership for New York City, who was at the fund-raiser.
After the event, Mr. Paterson adjourned to the nearby Cru with several high-dollar contributors for a "Champagne toast."
It's unclear the extent to which this rage at legislators, too, is calculated. Mr. Paterson has trumpeted it for the past several weeks, hoping to increase his standing in the polls by picking on the only group less popular than himself. But it is rooted, too, in animosity dating to this summer. Mr. Paterson blasted senators for a crippling leadership struggle, and they blasted back. One accused the governor of selling "woof tickets." Another, Kevin Parker, called Mr. Paterson a "coke-snorting, staff-banging governor."
"I think that David was very, for want of a better word, hurt that the Senate blamed him for some of their internal problems back in July. I think that there's a certain level of, I think he's still smarting there from their anger. But I don't think that really shows," said Mr. Wright. "He's issued all the clarion calls, and he didn't quite get it, and I don't think he really understands why they don't get the severity."
His repeated attacks suggest more than pure calculation. After his interactions with Messrs. Silver and Brodsky, Mr. Paterson went on the radio Sunday and called legislators "liars." He then returned to the blue-curtained briefing room to announce he was stalling payments to schools and local governments. It was the legislators' fault.
And so the attacks continued.
"The reality is that they only temporarily delayed the day of reckoning that has now come today," Mr. Paterson said. "The question is, who is going to wake up and face reality, and who is going to keep sleeping on the job."
And so, for now, does the campaign.
"He doesn't give up," Mr. Sheinkopf said, with a note of pathos. "He doesn't give up. Not his nature."
jveilkind@observer.com