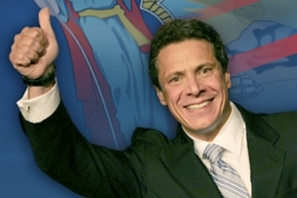 ALBANY-Tom DiNapoli is in a bad place.
It's not the fact that, as state comptroller, he's forced to preside over a state pension fund spiraling down with the overall stock market. Or that a recent poll showed that voters are inclined to pick "someone else" over him for a full term.
Worse than any of that is the fact that he happens to be standing in Andrew Cuomo's way.
As Mr. Cuomo moves closer to admitting he is running for governor in 2010, he is presumably thinking more about who could be on the ticket with him. The lieutenant governor slot, which was vacated after David Paterson ascended to the governorship in March 2007 (and subsequently filled on a temporary basis by Richard Ravitch), will be easy: He would be able to choose more or less anyone he likes, and would be expected to go for some conventional notion of "balance" by picking a running mate who is a minority, or a woman, or an upstater, or all of the above. It goes without saying that he would choose someone who shares his political aims.
"When Andrew Cuomo ran for governor against me, Charlie King ran with him for LG," recalled former comptroller Carl McCall, who defeated Mr. Cuomo in a 2002 primary to become New York's first black major-party nominee for governor. "We make too much of this, but people do what's in their best interest. People are not going to let it stop them."
The comptroller situation is slightly more complicated. Mr. Cuomo's calculations about the ideal ticket mate, presumably, are the same. Hence reports that he is attempting to entice outgoing New York City Comptroller Bill Thompson-a well-liked, well-known African-American official who is fresh off a surprisingly strong showing in the mayor's race-into the contest.
The Times reported last month that Mr. Cuomo was "intrigued" by the idea of Mr. Thompson as a candidate for comptroller. Aides to Mr. Cuomo denied to The Times that he was engaged in ticket-building, and a number of people who had private conversations with Mr. Cuomo said that he was angry about the article. But Messrs. Thompson and Cuomo speak not infrequently, and a source close to Mr. Thompson told The Observer, "I have reason to believe that they've spoken about it."
The only inconvenience is that there's a Democratic incumbent in the way.
In Mr. DiNapoli, Mr. Cuomo may well see a political weak link-an official who is unelected, indebted (he was appointed to replace Alan Hevesi, the disgraced former comptroller), inextricably tied to Assembly Speaker Sheldon Silver and, perhaps worst of all, demographically superfluous on a prospective Democratic slate headed by a downstate Italian-American.
Politics aside, the two men have seemed to have genuine differences of opinion about how to approach the state's substantive problems.
For example, when Mr. Cuomo's office announced actions last year against lawyers who were "double dipping" by claiming pension credit for part-time work at multiple school districts, Mr. Cuomo did not involve Mr. DiNapoli. Mr. DiNapoli's parallel investigation, after which 70 lawyers agreed to surrender their pension benefits and 62 were kicked out of the system by Mr. DiNapoli-an action that was subsequently rejected by a court-did not involve Mr. Cuomo.
Last week, Mr. Cuomo took a direct shot at Mr. DiNapoli's operation, saying baldly on a conference call about his indictments of a Hevesi-era profiteer that "fundamental reform" had yet to occur in the comptroller's office and that nothing had changed since the bad days.
Mr. DiNapoli's aides responded by noting that he has banned placement agents-who by definition are paid to help you play-and increased transparency by regularly reporting on the fund's activities. "Any innuendo suggesting a hint of impropriety in Comptroller DiNapoli's office is baseless and irresponsible," said DiNapoli spokesman Dennis Tompkins. "There's frustration that lies in that when the comptroller does things, he wants to do them right. We try to move in the right direction at the right pace, and we try not to make mistakes. The comptroller's commitment is to do things right, not to do them for PR."
For his part, Mr. Thompson has said publicly that he is talking to people "around the state" about his next move. He has been floated, somewhat improbably, as a potential challenger to Senator Kirsten Gillibrand, but faces in Ms. Gillibrand a well-financed, Schumer-protected opponent.
And although Mr. Thompson has done nothing publicly to dispel the idea that he might run for either Senate or comptroller, it's not clear that he's up for creating a contentious primary situation in either case.
According to one source who spoke to Mr. Thompson recently, Mr. Thompson "told DiNapoli that he's not going to run against him, and he's told others that he's told DiNapoli that he's not going to run against him. But he hasn't cleared anything out, and he has not said he will not run for state comptroller."
Rich Schaffer, chairman of the Suffolk County Democratic Committee, recounted a conversation he had with a Cuomo aide a few days after this year's elections.
"We were talking about the landscape and who did what," Mr. Schaffer said. "As part of it, I said that if Andrew is going to run, the thing that would make him the strongest is just to focus on who the lieutenant governor is. Let the rest of the ticket shape itself."
Mr. Schaffer helped Mr. DiNapoli hold a fund-raiser last week in Huntington, and he will be the guest of honor Saturday in Port Henry-a village on the banks of Lake Champlain two hours drive north of Albany. Tickets for a dinner of roasted chicken and potatoes cost $30, according to the Essex County Democratic chair, Sue Montgomery-Corey. Committee members will bake cookies for dessert.
Ms. Montgomery-Corey said she was simply thrilled that the comptroller was coming, and that she was unconcerned about Mr. DiNapoli's relationship with Mr. Cuomo. "I'd heard rumblings about it, but you know? It's a long time until November 2010, and my relationship with the comptroller has always been terrific, and it's been great to get to know him."