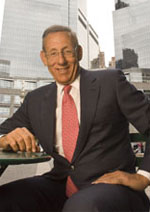 For the second day in a row, Mayor Bloomberg is headed to the West Side for a late morning press conference. And, once again, the mayor will be hailing progress on a development project by the Related Companies, the active real estate firm that was last week denied by the City Council in its bid to turn a Bronx armory into a mall.
According to the mayor's public schedule, Mr. Bloomberg is off to Related's new mixed-use tower rising up on 10th Avenue and 42nd Street, where the city is helping to fund a Frank Gehry-designed set of three theaters, a new home for the Signature Theater Company.
And Monday, the mayor had a press conference with Related in Chelsea, celebrating the Council's approval of the rezoning on the West Side rail yards, the planned $15 billion project for which Related is the designated developer.
The giant firm is probably the city's busiest developer, and has long been considered to be close to the Bloomberg administration, particularly during the reign of Deputy Mayor Dan Doctoroff, who was an old friend of Related Chairman Stephen Ross.
That close relationship has attracted criticism at times, particularly in the run-up to the Olympic bid in 2005, but generally the firm is quite effective at executing on projects (the Time Warner Center site, for instance, stagnated for more than 12 years before Related was selected to build on it).
Update 1:25 p.m.
The event, per an announcement from the mayor's office, was to announce the city's commitment of $25 million toward the theater. The city had previously committed just $9.5 million.
ebrown@observer.com