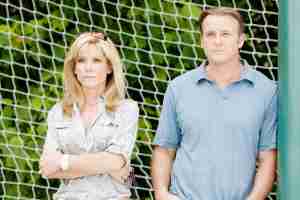 Consider this the calm before the storm. After a record breaking Thanksgiving, the box office slowed down to a crawl on the first weekend of December, as The Blind Side blitzed passed New Moon to take the top spot with an underwhelming $20.4 million. Don't feel too bad for Hollywood though: with Invictus, The Princess and The Frog, Avatar and Sherlock Holmes all on the horizon, the twelfth month should be a lucrative one. And let's not sleep on Up in the Air as a box office phenomenon either. Jason Reitman's Oscar front-runner grossed just over $1 million from 15 theaters, which was good for an average of $79,000 per screen. For reference, his previous film—a little something called Juno—averaged $59,000 per screen during its opening weekend and went on to gross $143 million. As we do each Monday, here's a breakdown of the top five at the box office.
1. The Blind Side: $20.4 million ($129.2 million total)
We can't say this result took us by surprise. With New Moon hemorrhaging viewers for a third straight week, The Blind Slide easily wound up in first place, despite dropping 49 percent from last weekend. After three weeks, the Sandra Bullock smash is already the second biggest grosser of her career and should pass The Proposal before the year is out.
2. The Twilight Saga: New Moon: $15.7 million ($255.6 million total)
Fun with numbers time: Film A has grossed $570.1 million worldwide, while Film B has pulled down $666.2 million. Solve for A and B. If you guessed that Film A was The Twilight Saga: New Moon, well done! But did you know that Film B was 2012? While the vampire sequel has dominated Roland Emmerich's disaster spectacular stateside, Edward and Jacob are no match for the Mayans around the world.
3. Brothers: $9.7 million ($9.7 million total)
Before you write off Brothers as a disappointment, consider that this is the best opening on the weekend after Thanksgiving since Aeon Flux grossed $12.7 million back in 2005. Of course that isn't actually saying much—go ahead, name someone besides Charlize Theron who appeared in Aeon Flux—but for a movie about the after-effects of the war in Afghanistan, we think nearly $10 million is pretty darn good.
4. A Christmas Carol: $7.5 million ($115 million total)
For the fifth week in a row, A Christmas Carol found itself perched in the top-five, which is a pretty solid return for a movie that supposedly bombed, no? With the second smallest decline in the top-ten (behind only The Blind Side), it should continue to have strong legs all throughout Christmastime. We feel like a "TOLDJA!" would be appropriate right about now.
5. Old Dogs: $6.9 million ($33.9 million total)
To those who don't believe that the universe has a way of correcting itself, we give you Walt Becker's Old Dogs. The Disney bomb held off 2012 and the opening weekend of Armored ($6.6 million) to finish in fifth place, but the $33.9 million total gross pales in comparison to the $168.2 million Mr. Becker's Wild Hogs stole from audiences in the spring of 2007. Once bitten, twice shy…