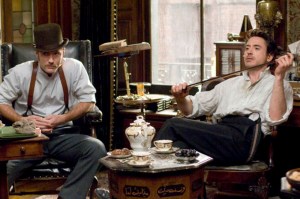 And you thought you had a good Christmas! The holiday weekend was the biggest in the history of Hollywood, with the top ten films grossing a combined $278 million. Of course Avatar was once again the top choice, pacing the field with $75 million, but a trio of newcomers all did exceptionally well: Sherlock Holmes was the second best runner-up ever, with a $65.3 million opening; Alvin and the Chipmunks: The Squeakquel raked in $50.2 million in third place; and It's Complicated debuted with a solid $22.1 million in fourth. Only Nine stumbled: The Weinstein Company Oscar hopeful grossed a paltry $5.5 million in its first weekend of wide release. As we do each Monday, here's a breakdown of the top five at the box office.
1. Avatar: $75 million ($212.2 million total)
Where to begin with Avatar: the second weekend tally is the second biggest second weekend gross in history, behind only The Dark Knight. However, the argument could be made that Avatar's second weekend is even more impressive because it only dipped 2.6 percent (!) compared to The Dark Knight's 53 percent drop. Avatar is already the seventh highest grossing film of the year and it could jump all the way to number two by the end of next weekend. Meanwhile, internationally Avatar has already reached $402.9 million, giving it $615.1 million worldwide in just ten days of release. At this rate, the big blue epic has a real shot at becoming just the fifth film in history—and the second straight directed by James Cameron—to top $1 billion in global box office receipts. Do we even need to say anything about him being the King of the World? We didn't think so.
2. Sherlock Holmes: $65.3 million ($65.3 million total)
Not bad for a bridesmaid. In addition to having the fifth biggest December opening of all time, Sherlock Holmes also had the ninth biggest opening of the year. Of course, because of Avatar, all that added up to second place. Still, we doubt anyone at Warner Brothers is shedding any tears. Sherlock Holmes delivered even more than experts had predicted and now seems set to fulfill the franchise dreams of all parties involved. If we would have told you twenty years ago that Robert Downey, Jr. and Johnny Depp would be two of the biggest box office superstars on earth, we doubt you would have believed us.
3. Alvin and the Chipmunks: The Squeakquel: $50.2 million ($77 million total)
To quote Tracy Jordan: what the what? The—ahem—squeakquel to Alvin and the Chipmunks, which itself was a humongous smash ($217 million total), has grossed a ridiculous $77 million since opening on Wednesday and its three-day total of $50.2 million was the largest ever for a third place finisher. We'd make a joke about the apocalypse here, but frankly we're too demoralized.
4. It's Complicated: $22.1 million ($22.1 million total)
In the end, it wasn't that complicated at all. Adult women wanted to see It's Complicated and see it they did. The audience was 72 percent female and 75 percent over the age of 30. Films geared towards this crowd tend to have long legs, something star Meryl Streep's summer hit, Julie & Julia, bears witness to; the opening of that film accounted for only 21 percent of its final gross. If It's Complicated follows suit, it could wind up with a final tally of around $110 million. Also, huzzah to Meryl Streep: It's Complicated is her fourth film in the last three years to open north of $20 million.
5. Up in the Air: $11.75 million ($24.5 million total)
George Clooney is nothing if not consistent. Take away the Ocean's franchise and A Perfect Storm and the dapper star has averaged just around $13 million per wide release opening over the last ten years. And while Up in the Air clocked in just under that bar, we think this number is more than impressive. Not only did it hold its own during the busiest weekend ever, but it also (barely) beat box office sensation The Blind Side ($11.73 million/$184.3 million total) to finish in fifth place. With $25 million in the bank thus far, Up in the Air has the look of a lengthy success as it travels further into awards season.