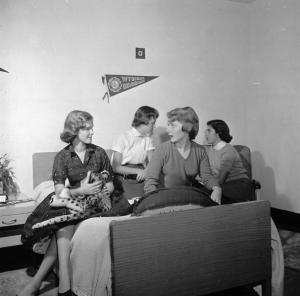 If approved by administrators, a new gender-neutral housing policy proposed by the student council would allow opposite-sex roommates at Columbia.
The Post is all over this.
"Columbia University students will soon be able to live in sin — on their parents' dime," the paper writes. Boys and girls will be able to "shack up," the article explains:
For young couples in love, sharing a room could put an end to the infamous "walk of shame"– the early-morning cross-campus trek back to a separate dorm in the previous night's clothes.
Presumably, "panty-raids" would also become so easy as to be no longer entertaining.
The Post devotes a second article to Dr. Ruth's perspective on the "romper rooms"; she is sympathetic to the plight of horny students, but she cannot endorse this shocking shack-up scheme. She volunteers an alternative:
Set aside some rooms with locked doors where students can go to have a couple of hours of privacy.

If two students are so in love that they need to spend every minute with each other, let them move off campus. But such private rooms will ease the pressure of roommates without partners without making such a drastic change to the collegial atmosphere of campus life.
Perhaps the Columbia College Student Council will take this under advisement. In the meantime, however, they seem kind of baffled by the Post's characterization. Reports the Spectator:
[Sarah Weiss, CCSC Vice President of policy,] emphasizes the fact that the proposal is "about giving students the opportunity to live with whomever they feel comfortable. … without gender binaries of being male and female." The proposal is meant to accommodate LGBT students, transgender students, and students in general.
So: not free love, but free expression of gender identity. If you want to mock this plan as liberal ivory-tower tomfoolery, you are at least 40 years behind, Post. Get with the program.