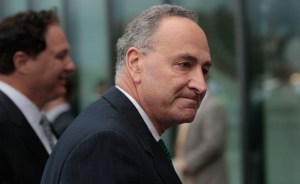 Republicans are ginning up extended outrage that Senator Chuck Schumer referred to a flight attendant as a "bitch" after she insisted he turn off his cell phone before the cabin doors closed.
"Senator Schumer owes an immediate apology to the flight attendant who was simply doing her job and to the passengers around him who had to witness his boorish behavior," an NRSC spokesman said. But they didn't stop there. "We also hope his fellow Senator and passenger Kirsten Gillibrand will rightly condemn these actions by her colleague."
But Ms. Gillibrand, who already said her Senate mentor was "polite" to the flight attendant, isn't taking the bait.
"It is the kind of interaction you see on planes all the time," a Gillibrand spokesman, Matt Canter, told POLITICO's Ben Smith. "The senators were on the phone and turned off their phones when they were asked. Sen. Schumer has already said that he should not have used that word and says he regrets it. There is nothing more to add."
As Azi Paybarah figured, Mr. Schumer's quick mea culpa should head off any sort of full-blown "putzhead" situation for the senior senator and, presumably, for Ms. Gillibrand.