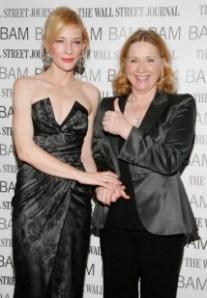 This takes care of one obstacle: Stephen C. Byrd, the Broadway producer with the rights to stage Streetcar, has told The Times that he wants to help transfer the Cate Blanchett BAM production to Broadway.
He hasn't seen it yet, but he hears good things:
"From what I've heard, it's fabulous, and I plan to reach out to Cate and her theater company to talk about bringing the show to a wider audience," Mr. Byrd said. "I hope she will consider it. I'd love to be involved."
Of course there's still Actor's Equity and pesky babies to contend with.