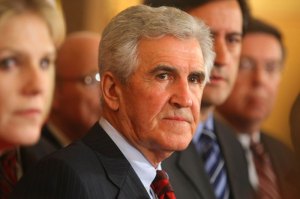 ALBANY—Former Senate Majority Leader Joe Bruno has been found guilty on two counts in his federal corruption trial, and acquitted on five other counts. Jurors could not reach consensus on another count, Capital News 9 is reporting.
From the Times Union:
The 80-year-old Republican from Brunswick sat quietly as the jury of seven women and five men rendered its verdict about 4:15 p.m.: Guilty on two counts of mail and wire fraud.

The verdict followed nearly seven full days and 50 plus hours of deliberations, which began Nov. 24, the Tuesday before Thanksgiving. The jury broke five days over the holiday break and resumed their deliberations all last week and today.

Bruno, acquitted of five counts, was found guilty in connection with 11 payments he received from companies controlled by Loudonville businessman Jared Abbruzzese.

The jury found Bruno did not perform legitimate work for the Abbruzzese companies – and that the payments were, in effect, gifts.

He was also convicted of failing to disclose his participation in a partnership with Abbruzzese that involving thoroughbred race horses.

The panel reached a verdict after asking for several "read-backs" – re-hearing of testimony – from a number of witnesses, including Abbruzzese, former Senate counsel Francis Gluchowski and former Senate counsel Francis "Tim" Collins, now a Court of Claims judge in Saratoga County.

Federal prosecutors in Albany accused Bruno of violating U.S. theft of "honest services" law, an allegation that prompted the iconic Capital Region politician to stage daily news conferences asserting his innocence.

He had broken no laws, Bruno repeatedly said since being indicted in January.
The Times Union has exhaustive coverage of the case here.