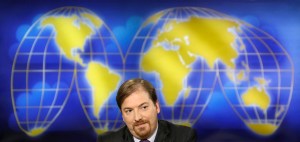 While George Stephanopolous was somewhat awkwardly settling into his ringmaster role on "Good Morning America," NBC announced that White House correspondents Savannah Guthrie and Chuck Todd would be getting their own political morning show on MSNBC.
Mr. Todd—he of the improper sneeze and $2,000-dollar goatee—has long been considered a rising star, and the network has been looking at how to showcase him since at least the spring, after it gave Meet The Press to the more experienced David Gregory.
The one-hour show will be called "The Daily Routine," and will air at 9 a.m., begining January 11.