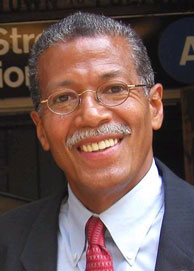 On Monday, Nov. 30, Councilman Robert Jackson went around the City Council to a handful of other members before he met with the staff of Speaker Christine Quinn. The meeting regarded his top priority, a bill that brings new rights to small businesses and new restrictions to commercial landlords. He had a request of the other members: Sign on to a petition to force a vote.
"He told me that he was meeting with the leadership, and that he was filing it in his back pocket, and that he would file it if necessary," said Councilwoman Letitia James, a signatory on the petition, which is a motion to discharge. "I said, 'I doubt you will file it, and I'm sure that this will work out.' And, apparently, it did not."
Indeed.
After an unsuccessful meeting with Ms. Quinn's office, Mr. Jackson filed the motion Monday evening. The speaker has said she believes the bill will be thrown out by the courts and therefore should not be approved, and her staff had been pushing a number of alternative measures that the bill's advocates viewed as insufficient.
Rebuffing Ms. Quinn, Mr. Jackson's legislation, called the Small Business Survival Act, is slated to come up for a vote at the next full Council meeting on Dec. 9.
The bill would reshape commercial renting in the city.
It would provide a broad new set of rights for all businesses with up to 100 employees, retail or office, giving tenants the ability to go to arbitration with their landlords if they feel the proposed rent is unfair. The backers' aim is to slow the rapid turnover of storefronts in gentrifying neighborhoods and to cut down on the number of newly vacant fronts citywide.
The real estate industry says it will be a disaster, claiming landlords and economic growth generally depend on the free ability of building owners to set market-based rents. And, in testimony at a hearing earlier this year, the Bloomberg administration opposed the measure.
What happens next, politically, is unclear. Mr. Jackson will need to round up the votes for a measure that had very little precedent (he has 30 of 51 members listed as co-sponsors, but that number could change as a vote nears on the motion).
And the real estate industry will surely push back.
"Now that the debate's going to be elevated, people will focus more on what the bill really does," said Frank Ricci, director of government affairs at the Rent Stabilization Association, a landlord group. "Given that, I think you'll see support drop off."
Ms. Quinn, in a statement, said the bill was "not within the Council's power."
Instead, she said she was proposing a large set of legislation aimed at small businesses that would create a tax break for smaller retail tenants, add incentives for landlords to renew leases of small businesses, ban payments outside the lease, use city resources to help with lease negotiations and change zoning laws.
But Mr. Jackson's action raises a broader question on the cohesion of the Council in the next four years, as a new class is set to enter in January, and some members are predicting a bit more insurrection. "I see it's a sign of things to come," Ms. James said of the action.
ebrown@observer.com