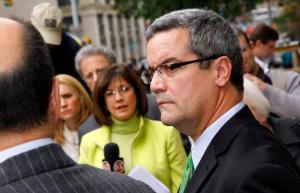 Hiram Monserrate's Senate colleagues appear to be "laying the groundwork for a stiff punishment" for the face-gashing state senator, reports The New York Times. According to a draft of the senate investigative committee's report, Monserrate behaved "recklessly and carelessly," and slashee Karla Giraldo's testimony in his defense was not credible. Monserrate may face expulsion.
In other ongoing stories, would-be Letterman extorter Joe Halderman is comparing himself to Tiger Woods' mistresses. Just as the mistresses "got big-bucks deals to either keep their mouths shut or dish about sexcapades with the world's greatest golfer," Halderman simply hoped to receive big bucks in exchange for silence about sexcapades, the Post explains. Such behavior is "capitalist, not criminal," wrote Halderman's lawyer in papers filed with the Manhattan Supreme Court.
The Daily News calls this strategy "a wild slice."
Meanwhile, the dailies offer divergent takes on Cyan Brown, the sixteen-year-old Queens girl who turned herself in after perpetrating a fatal stabbing. The Times reports that the stabbed man had "harassed and groped" Brown; the Daily News writes that while Brown initially appeared to be a "plucky victim," she was in fact "the main agressor."
"She takes over, gets mouthy," a source told the paper.
And Gerald DeGerolamo, a "Mafia associate," maced and robbed a man attempting to sell an engagement ring on Craigslist. DeGerolamo is noted for his daring armored car robberies in the 80s and 90s as well as a prison escape. Last week, he responded to a Craigslist post, only to grab the ring and run when he met up with the seller.
"His recent exploits," the paper writes, "pale in comparison to his earlier work."