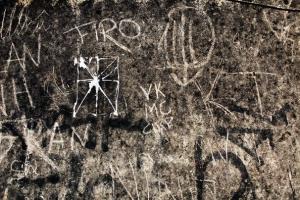 Professed "self-hating Jewish hipsters" (spoken in irony? probably! but hard to tell from the article) who repainted Williamsburg bike lanes were arrested yesterday, reports the Post. The city removed the bike lanes after complaints from the neighborhood's other Jewish demographic, the Hasids, who feel that reckless and underclad cyclists pose "both safety and spiritual risks."
The re-painters face criminal mischief charges, but have vowed to repeat their work if the city removes the lines once again.
The Times is also excited about vandalism today: the paper profiles a graffiti artist known only as "B.N.E.," whose "mischievous monogram" has become a ubiquitous part of the urban landscape. He works in markers and spray paint, but is particularly fond of large stickers bearing the initials. Back in 2006, he "so blanketed" San Francisco in stickers that Gavin Newsom offered a $2,500 reward for information leading to his capture.
Now, however, he has gone legit:
This weekend, B.N.E. was not spray-painting surreptitiously, but creating a sanctioned mural on a concrete wall in a temporarily vacant building at 595 11th Avenue, near 44th Street. It is part of an exhibition of his work that opens Thursday, sponsored by Mother, a Manhattan advertising agency.
In other high-profile wanted people: a segment on "America's Most Wanted" has yielded a "flood" of tips on the location of Queens Ponzi schemer Spiro Germenis, reports the Daily News.
And extortionists allegedly targeted John Stamos, but he says the pictures are so tame that he'd be willing to release them himself; the "Pix," the Post clarifies, are not "PiXXX."