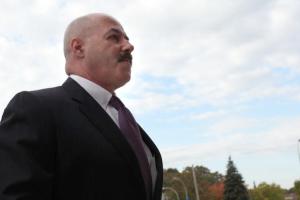 Hector Quinones, a recently released career criminal, killed three members of the Rodriquez family in their Upper West Side apartment yesterday afternoon. Quinones apparently knew Carlos Rodriguez Sr. from prison, and although the exact motive for the attack remains unclear, the details of the attack are known quite precisely.
The Times' primary sartorial concern is Mr. Quinones's gloves:
If there were any doubt that Hector Quinones was intent on causing grievous harm Thursday, it would have been dispelled by one look at his hands — covered by two sets of gloves, one rubber and one leather.
The Post focuses instead on his pants, presenting an detailed account of the saggings and slippages that foreshadowed their ultimate fall–which tripped Quinones in his attempt to escape and sent him tumbling out the window.
The murders took place "near a string of upscale shops," reports the Post, and the Daily News spoke to Estella Carrino, who runs a bike store on the building's ground floor. She heard the "sickening thud" of Quinones' body striking the pavement:
"He had no jacket on and his pants were down. He was very dead," she said, adding he was draped in gold chains. In addition to heroin, a small amount of cocaine was found in the apartment.
(Pictured here, for purposes of comparison, Fat Kerik. You're welcome.)