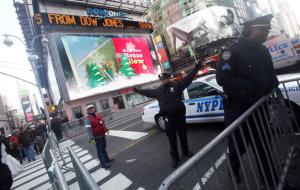 This New Year's Eve, The Times reassures us that New York will be doing everything it can to prevent crime in Times Square. Police have been in "a heightened security posture" ever since 9/11, a department spokesman said.
Still, some responsibility falls on the citizenry. Mayor Bloomberg has advice for concerned individuals: do not hesitate to approach the authorities.
"Just walk up and say, 'Hey, maybe I'm wrong, but this guy looks nefarious,' or whatever," he suggested.
But ordinary New Yorkers are not always the swiftest at spotting crime. A Queens woman realized she had the been the victim of identity theft only when she went to registrar's office for a marriage license and was told she had already wed. Unbeknownst to Sara Benitez, Araceilis Cherico had made off with her identity. The Post writes that Cherico had married, divorced, and filed fraudulent tax returns as Benitez.
The mother of three soon realized Cherico's scam could explain other baffling problems she's encountered – why she couldn't get a Macy's credit card and why she had to pay parking tickets on a car she never owned.
Cherico will go to jail for 60 days and repay her fraudulent tax refunds. Benitez, one hopes, will stop paying inexplicable parking penalties.
And the Post brings readers a detailed account of a "hotshot" investment banker's sexual proclivities, as alleged in a suit by his estranged wife. Jason Meyers of Aspatuck Holdings apparently enjoyed "violence, power trips, and kinky sex."
The Daily News leads instead with the wife's nationality. She is French.