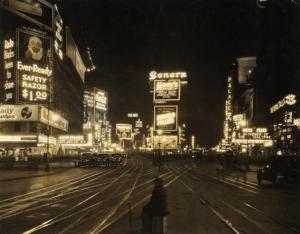 Police shot and killed a street vendor in Times Square yesterday after the man opened fire with a semiautomatic gun. Sergeant Christopher Newsom was asking about Raymond Martinez's licensing paperwork when Martinez made a break for it and then began shooting.
In Martinez's pocket, police found a business card for a Virginia gun dealer with a handwritten comment that The Times deems "cryptic," the Daily News "ominous," and the Post "chilling." It read, "I just finished watching The Last Dragon. I feel sorry for a cop if he think I'm getting into his paddy wagon."
Wicked, the long-running musical, becomes a motif in this incident. A shot fired into a souvenir shop leaves a bullet hole "to the right of a Wicked snow globe." It tears through a Wicked book. Tourists compare the thrill of the shooting to the experience of getting Wicked tickets.
Tourists also seem to have felt confusion as to whether the incident was real or a movie. Dave Kinahan of Boston told The Times, "At first I wasn't sure: Was it real, or was it a movie?"
In a second article, the Daily News explains that Martinez's gun was the same model used by John Wayne and Bruce Willis in various film roles.
And the man who angered viewers by punching a girl named Snooki on MTV's Jersey Shore is a public school gym teacher in Queens.
A Seaside Heights detective told the Post that Snooki "sustained an injury to the inside of her mouth" following the punch from Brad Ferro. Ferro has been removed from his position and sent to one of the Department of Education's "rubber rooms."
The Daily News places this development in a broader context:
The highly publicized smackdown is the latest black eye for city schools. The News revealed this week that a trio of female teachers were booted from one Brooklyn high school for sexual shenanigans.