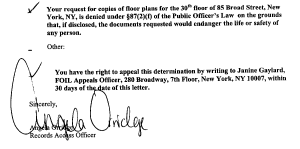 In last week's Observer, I profiled Goldman Sachs' soon-to-be-old headquarters at 85 Broad Street. One of the distinctly unpleasant things about reporting the piece was Goldman's unwillingness to cooperate–they wouldn't allow a visit, let alone interviews with employees–though that wasn't that surprising. The New York City Department of Buildings was, interestingly, just as unhelpful.
The Observer made an official request, called a FOIL, for any information on 85 Broad Street, especially floor plans for the 30th floor. Not only is that where Goldman's executives work, but it used to be a comfy wonderland of dining rooms: "When we all first moved in there, there were cigarettes at every table, in a silver holder," Richard E. Witten, a former partner, said. "The chef was famous for his chocolate chip cookies, and they were served at every meal."
So where are the delectable ovens now? How big is the remaining dining space? What are the lovely contours of CEO Lloyd Blankfein's office?
The Observer recently got this rejection from the Buildings Department: "Your request for copies of floor plans for the 30th floor of 85 Broad Street, New York, NY, is denied under §87(2)(f) of the Public Officer's Law on the grounds that, if disclosed, the documents requested would endanger the life or safety of any person."
The mysteries of Goldman's top floor, beautiful and deadly, remain unsolved.
mabelson@observer.com