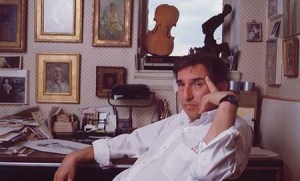 David Levine–the indomitable illustrator who for decades defined the aesthetic of the New York Review of Books–died this morning in Manhattan at the age of 83.
Through his sharp-eyed pen-and-ink portraits, the Brooklyn-born artist helped shape the nascent NYRB when he joined the staff in 1963. Mr. Levine received an envelope every Thursday containing photos of his subject for the week, and–in the course of his forty years–amassed an amazingly witty archive full of outsized authors and heavy headed heads-of-state. He also contributed to Time, Newsweek, Esquire, Playboy, The New Yorker, New York Magazine, and The Nation.
In his latter years, Mr. Levine's famously sharp eyes suffered from macular generation. "If I look at somebody's face, I can't tell what it really looks like in detail," he told the Observer in 2007. "I can see the general layout, the noses and so on, but if you come into a restaurant where I'm sitting and looking towards the door, I can't tell until the person gets within five feet of me who it is."
"It didn't stop [Edgar] Degas," he said at the time. But it did eventually stop Mr. Levine from contributing to the NYRB, which ran his last portrait in 2007–a quiet separation chronicled by David Margolick in Vanity Fair last year. Mr. Levine apparently thought he had been fired, though NYRB editor Robert Silvers insisted he was open to publishing more of Mr. Levine's work. The paper appears to have considered him something of an illustrator emeritus. He remains on the masthead as a Staff Artist, and the paper's web site contains this eulogy from the late contributor John Updike, written more than 30 years ago:
"Besides offering us the delight of recognition, his drawings comfort us, in an exacerbated and potentially desperate age, with the sense of a watching presence, an eye informed by an intelligence that has not panicked, a comic art ready to encapsulate the latest apparitions of publicity as well as those historical devils who haunt our unease. Levine is one of America's assets. In a confusing time, he bears witness. In a shoddy time, he does good work."
What Mr. Levine did for the NYRB might never be done again. "It's safe to say that in a digital era, with little stability or loyalty or even newsprint, there will never be anyone remotely like Levine again," Mr. Margolick wrote in an e-mail, "someone who became the visual signature of a landmark publication, and who depicted (and ridiculed. And debunked. And, in rare instances, flattered), so many of the people who mattered to our civilization."
And he was a good friend. "David Levine was unique as an artist and as an indomitable individual whose positive presence was an indispensable asset to this gallery and to me personally for 45 years," said his friend Robert Fishko, the director of the Forum Gallery, which represented Mr. Levine. "His wry and poignant laughter was completely infectious, his sense of reality totally sophisticated, his insights beyond deep – and it all came naturally and without pretense. I miss him already."
Mr. Fishko said Forum Gallery plans a March exhibition of Mr. Levine's work.