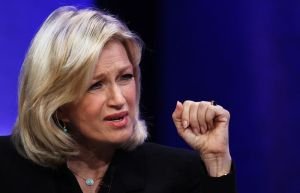 On the morning of Friday, Dec. 11, Diane Sawyer said goodbye to Good Morning America viewers after more than ten years of co-hosting ABC's morning show.
GMA producers marked the day with a series of mellifluous tributes, looking back at a decade of highlights. Ms. Sawyer wading through the high waters of Katrina. Ms. Sawyer interviewing victims of the tsunami. And on and on.
At one point, George Stephanopoulos materialized to say hello to his newly inherited family of viewers.
For Ms. Sawyer, Friday's show provided not only a chance to pass the baton to Mr. Stephanopoulos but also one final opportunity to try and top that perrenially first place morning show, Today.
Alas, no.
Despite the hightened media curiosity and some advanced end-of-an-era hoopla, Ms. Sawyer's farewell show ultimately failed to win the morning, once again, finishing runner up to NBC's Today.
According to preliminary Nielsen data, Ms. Sawyer's farewell attracted roughly 4.8 million total views and 2.0 million in the 25 to 54 demographic–well short of Today's roughly 5.3 million total viewers and approximately 2.5 million in the demo.
(By comparison, some three-and-half years ago when Katie Couric said goodbye to the Today show, the sendoff was a ratings bonanza for NBC, easily winning the morning, and attracting some 8.4 million total viewers.)
Three days later, on Monday Dec. 14, Mr. Stephanopoulos made his official debut as GMA's anchor and managed to pick up where Ms. Sawyer left off. Deep in second place.
According to preliminary numbers, Mr. Stephanopoulos' first day attracted roughly 4.6 million total viewers and 2.1 million in the demo; while Today won handily with approximately 5.9 million total viewers and 2.9 million in the demo.