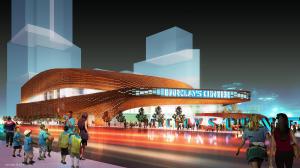 Are the naming rights for Bruce Ratner's planned Nets arena worth what they used to be?
In January 2007, Mr. Ratner, Nets owner and developer of the planned $4.9 billion Atlantic Yards project in Brooklyn, trumpeted a record-setting naming rights deal for the new $900 million basketball arena that would be the centerpiece of the project.
While Mr. Ratner's firm never released an exact number, it was widely reported that British bank Barclays would pay nearly $400 million over a 20-year deal to slap its name on the venue, which, at the time, was to be designed by stararchitect Frank Gehry. The move was a huge win for Mr. Ratner, a record price that would bring in a big injection of funds with a well-respected name.
But now, after a historic economic crash, lengthy project delays, and the dropping of Mr. Gehry as project architect, there's reason to think the deal is less than it once was.
According to documents related to the arena's financing that were released Thursday, Barclays will pay $10 million a year to the arena's owner for the 20-year deal. Looking solely at this, it would seem to make it a half-off discount, but there are a number of other untold fees paid directly to the Nets as part of the naming rights, according to the documents. Forest City Ratner declined to provide those numbers, and a spokesman for Barclays declined to comment.
"Naming rights agreements always include the arena, team and hospitality assets. Ours are the same," Joe DePlasco, a Forest City spokesman, said in a statement.
Whatever the fees paid directly to the team, it's hard to think that they're twice $10 million a year. After all, a consultant's study attached to the documents refers repeatedly to the transaction as a $200 million naming rights deal, and uses that number as a basis of comparison for other naming rights deals.
IF THERE WAS INDEED a revision, it came either at the end of 2008 or earlier this year. The original 2007 contract expired at the end of 2008, but was extended after Barclays and Mr. Ratner's firm, Forest City Ratner, renegotiated. At that time, new terms were not released, though Barclays released a statement saying it was "unwavering in its commitment" to the project. The financial documents released now say the deal was again amended in August 2009.