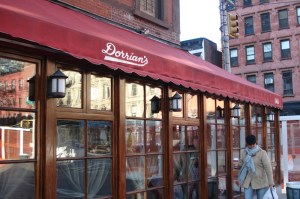 The fashionable thing to say, especially among those who haven't been around long enough to know what they're missing, is that New York has lost all its old charm. The wondrous character-driven businesses that once populated the magical, uneven checkerboard that was Old New York have all been snuffed out, along with the myriad of wondrous personalities that guarded them.
But the children of the Upper East Side still have Jack Dorrian to comfort them when the newness becomes too much to bear. They know very well that he has been there, at his bar, Dorrian's Red Hand on 84th and Second Avenue, from 10 a.m. and 5 p.m., forever.
"You pay with your body," Jack likes to say. He is 75. You can usually find him at his table playing spades, or in his office doing the books and smoking a cigar, or roaming around fiddling with place settings, watching. The bar business is like any other business. If you want to survive: "You gotta be there."
"Everyone knows Dorrian's is like a rite of passage for anyone who grew up on the Upper East Side," society writer Peter Davis told me. A Buckley boy, he got drunk for the first time there, had his first kiss there, with a Hewitt girl (they would do things that a Spence girl wouldn't). "But lately there's been an resurgence among the whole crowd of kids in their 30s."
Is it the karaoke on Tuesday nights, when Topper Mortimer does a great version of the Boz Scaggs tune "Lido Shuffle"?
Dorrian's had always been the designated place to go during holidays or when prep schools and colleges have breaks. But now it seems like there's a whole scene there, that makes the trademark preppy co-ed bar the perfect place for the old boys—and girls, too!—to congregate, without feeling like geezers paying a return visit to their Ivy League frat house.
"I think part of why it's so hot right now is the recession and people not having cash and it being not a $20 cab ride away downtown," said sociable gal Anisha Lakhani. "And then coupled with things like, you know, this is not Rose Bar where you have to get past someone or like 'velvet ropes', if you have an ID you can get in, basically. …"
"It's like opposite of the Boom Boom Room, which is like the new Studio 54," said Mr. Davis. "The Boom Boom Room is the hierarchy"—every time he goes there he passes by a long, tragic line of plebes waiting to get to pay $25 for a drink—"and Dorrian's is the democracy."
JACK HAS A square head, with a handsome, wrinkly face and an impressive head of white hair. If you don't act like a wise guy, he'll tell you how things work. Shut up about the Preppie Killer, that was a fluke. He's not terribly interested in talking about how for nine years back in the '80s they served free dinner to the homeless on Monday nights either—they apparently started stealing the silverware and showing up in cabs and calling to ask what was on the menu.
His is the red-checkered four-top in the back corner; if he's not in it, a deck of blue playing cards kept right with a rubber band will be marking his seat. It faces the door and has a view to the mirror that reflects on the bathrooms. You think that's a coincidence? Jack's smoking in Romeo & Juliet's now. His horse Don't Blame the Cat races on Sunday, which means he'll have to go to Saturday mass at 5. Business has remained remarkably steady this last year, yes. Someone recently informed him that Dorrian's sells more Jägermeister than any other bar on the East Coast.
"The thing about the bar business is, you're only as good as your last burger," he said. The other thing is, you don't give up your trade secrets.
Nothing escapes the watery baby-blue eyes of Jack Dorrian, and between his eight children, all of whom he put through private school—"What, am I gonna put 'em in with the dopes?!"—he can keep a pretty good bead on who's who and what his value is beyond just blood.
"Water seeks its own level" has been Mr. Dorrian's business philosophy for 47 years, one he inherited from his father, Red, who ran a number of bars, including an incredibly successful gay speakeasy called the Wrinkle Room.
Jack's really smart about choosing his bartenders. Take Alex Brown, who's been there for like a year now and does Thursdays. His brother's Cabell. Cabell always goes out with John de Neufville. John de Neufville is dating Genevieve who is, like, a Vogue girl. John de Neufville is also best friends with Topper. Cabell's wife is Vanessa Kilbert Brown. Vanessa's best friends with Lauren Santo Domingo, who also works at Vogue. So on a Thursday night, you're getting that whole group. That said, Alex couldn't be a slower bartender. You just stand there, and you're like, what the fuck? Totally nice guy, totally inept.
Monday night is Callum, Callum McLaughlin. You know Callum, right? Awesome, sweet guy. Brother of Gavin McLaughlin and Andrew McLaughlin. Grew up in Far Hills, New Jersey. Bam! So now you understand, the whole Far Hills contingent's gonna come. Though Annabel Vartanian doesn't come very much, whatever that means.
But Jack says an even more important guy in the saloon business is not the bartender but the porter. "Unless he cleans the place up for the next day, if someone gets sick or the toilet is clogged or there's a party, if he doesn't clean up the place—that's the most important guy you have in the bar business."
Jack got the place a week before Christmas, 1959. It came with Christmas decorations and wrapping paper behind the cash register. When Jack went to take down the wrapping paper, he discovered someone had left two bullet holes in the mirror.
"So this was a rough neighborhood at that time," he said.
Turns out there were two different factions in the neighborhood warring with each other. Two guys were looking to shoot a guy, and they called him on the telephone down York Avenue, and he went to the telephone booth that was in the window. While he was in the window talking to them, they shot at him from across the street, through the window. Jack doesn't remember whether they were gangsters.
"Whatever they were, there were two groups, and I wasn't from this neighborhood. I was from the Bronx. These two groups didn't like each other and I had this bar. This bar wasn't like it is now."
Now it's all cornball. Built almost like a house. Brick and wood, a nice real fireplace. Old black-and-white photographs on the walls: of the good old days, friends, family, some horses Jack ran. There are no hookers in here. No drug deals in here. No gambling.
Back then, you didn't have the back room. You didn't have the outdoor cafe, where Paul Johnson-Calderon likes to come and pretend to play backgammon in the summer. Once a guy pulled a switchblade on Jack. "It was tough."
When he bought the lease, there were two mortgages on it and it didn't do any business. Five hundred a week, seven days. Eighteen dollars in the daytime and $42 in the nighttime and you were open from 8 in the morning until 4 in the morning. He was 30. Bartender till 6, then he'd walk the four steps over to the kitchen and get to skilleting.
"During the daytime, if things were slow, I'd be cutting the tables and making meatloaf and making hamburgers and that kind of stuff, a bunch of French fries. At 6 o'clock, the night bartender came in and he went there, and I went to be a cook until 12 o'clock at night. Then I went home and I was back here at 8 o'clock in the morning.
It was the same for Jack's father, a college-trained electrical engineer, who came over from Belfast in the '20s. Six months later, he was a bartender in a speakeasy. But in that generational transfer, the son moved the ball up the field: In 1977, Jack Dorrian bought the entire building, including the 16 apartment units above, in one of which Jack's father lived out the last years of his life.
I asked if his father was his best friend.
He gave me the cockeye. "My wife is my best friend," he said. "By far."
His father's name was James, but everyone called him Red. Then he had his own speakeasy called the Red Wheel or some such on 51st Street, two houses off of Third Avenue. Then he had a bar downtown on 13th Street.
When Pete Hamill, whose dad was lifelong pals with Red, asked his mother if Red Dorrian ran a gay bar during Prohibition, she said, "'Of course not. He's a Catholic,'" Mr. Hamill told me. "But apparently that's what went on."
"They called it the Wrinkle Room," Jack said. "What happened was my dad was working at a bar downtown and a lot of older gentlemen who were gay started coming in there, so it became a gay bar. But it wasn't like it is now. Back then no one talked about it. They weren't faggots, they were gay."
Though it does seem that Rock Hudson was a bit of a faggot. "They had banned him 'cause he would go in there and hustle people."
I asked him if he meant he was a pool shark.