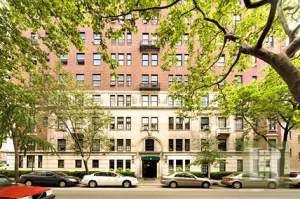 Chipotle founder, chairman and chief executive Steven M. Ells is bringing the heat to Greenwich Village. The "gourmet" taco and burrito czar recently bought the $11 million penthouse at 40 Fifth Avenue. Mr. Ells bought the 10-room co-op in Greenwich Village from psychologist Edwin Fancher, a co-founder and part owner of the The Village Voice from the 1950s to the 1970s.
Built in 1929, the 15-story building, deemed by the Web site Cityrealty as "the most elegant high-rise apartment building on Lower Fifth Avenue and in Greenwich Village," has a private garden and a side street entrance on picturesque 11th Street. "With its tall, distinctive watertower enclosure, the building has always been a landmark, especially since it rises above the historic churches immediately to the north and south," noted Cityrealty.
Available for the first time in 30 years, the four-bedroom, four-bathroom penthouse boasts a private elevator and "classic architectural elements." Two "huge" terraces and windows throughout provide, "endless light from four exposures and a seamless indoor/outdoor connection throughout." Broker Kim Glisker Robilotti of Janet Aminone Robilotti & Associates declined to comment, telling The Observer, "I really can't talk about this apartment; neither party wants me to speak about it."
Dr. Fancher, a member of the New York Freudian Society and Institute and the first publisher of The Village Voice, also chose not to comment, asking only, "You're writing about the sale of the apartment? Who cares about that?"
With two wood-burning fireplaces, the apartment is a perfect place for Mr. Ells to authentically test his latest recipes using a wood-fired grill. House warming gift, anyone? Forbes described the Tex-Mex style eatery in a 2007 article thusly: "Chipotle's design strives for a bit of earth-tone 'authenticity' and even a touch of class that the little anthropomorphic chihuahua, amusing as he was, just didn't provide."
Perhaps Mr. Ells is looking for a bit of earth-tone authenticity in his new Manhattan apartment. Indeed, the listing brags of the apartment, "It offers a lifetime opportunity for a sophisticated and discriminating buyer to purchase a most important residence in 40 Fifth Avenue." Taco Bell Chihuahua not included.
cmalle@observer.com