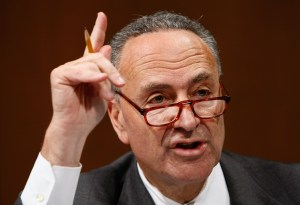 This afternoon, standing outside the Proctors Theatre in Schenectady, ubiquitous Senator Chuck Schumer completed his eleventh straight year visiting all 62 of New York's counties.
"The whole point of the 62 county tour is to see firsthand the ways that I can help make New York State its very best," said Mr. Schumer, who began visiting every county in 1999, the year he ascended to the Senate after defeating incumbent Republican Al D'Amato. (His press release calls it a record.)
Of course, the annual odyssey also lets more conservative upstate voters see firsthand the Brooklyn-born senator, who came in as one of Washington's most liberal congressman, and who now pushes maple syrup production and cuts taxes for venison donors. Last month, Mr. Schumer took his first hunting trip with Nebraska Senator Ben Nelson. He thinks he bagged three pheasants once he disengaged the safety on his shotgun.
His effort isn't totally convincing ("I always thought hunting dogs were just for companionship"), but apparently it works. Forty-five percent of upstate voters approve of Mr. Schumer's performance–19 points lower than he polls in New York City, but more than enough to ward off any would-be Republican challengers.