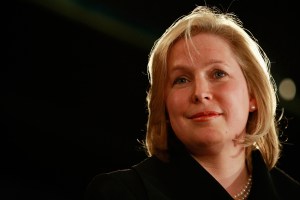 Yesterday, The Advocate named Senator Kirsten Gillibrand one of the magazine's five People of the Year, celebrating her efforts to pass same-sex marriage and repeal Don't Ask Don't Tell.
But Ms. Gillibrand would prefer you think of it more like a lifetime achievement award.
"It was by no means an introduction," Gillibrand told The Advocate of her now-famous chat with Alan Van Capelle, the executive director of the Empire State Pride Agenda, which helped seal her appointment by Governor Paterson. "I was proud to work with them and other LGBT advocacy organizations during my time in the House of Representatives."
It's something of an odd quote for a short piece specifically celebrating Ms. Gillibrand's efforts this year–which she spent in the Senate–but it's always been an important point to Ms. Gillibrand. Her camp would like to counter the notion that she suddenly turned left when she ascended to the upper house, a narrative that somewhat vitiates the political benefits of her newly liberal views on guns and immigration in advance of her first statewide campaign.
At the time of her appointment, the Human Rights Campaign rated her last among New York's Democratic delegation, with a score of 80 out of 100. But the organization has been so pleased with her Senate record–and, presumably, with whatever assurances she offered privately that she would continue to be right on gay issues in the future that it offered her an early endorsement last month. (This, as an openly gay, if not-entirely serious challenger, Suffolk County Legislator Jon Cooper, mulls a potential primary challenge.)
"By all accounts, Senator Gillibrand has been an aggressive proponent of LGBT rights, that's the record I'm looking at now," Mr. Van Capelle told me last month. "What I'll say is that she's probably been one of the most accessible legislators I've come across. I know that I can text Senator Gillibrand and I can receive a call back from the senator in less than an hour."
Clearly, that's not nothing.