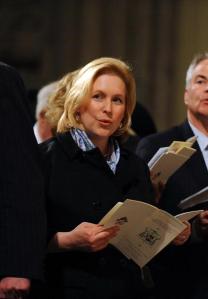 Your "cipher in the Senate" has spoken.
Senator Kirsten Gillibrand likes the health care bill enough to call this "a historic Christmas." But she doesn't love it.
"While this is a good bill, it is not perfect. I believe that a public option is the best way to reduce costs," she said in a statement."I'm troubled by the Nelson compromise, but I believe it is still dramatically better than Stupak."
It's a slightly different position than that of senior Senator Chuck Schumer, who spent a lot of long hours negotiating the compromise with his hunting buddy, Nebraska Senator Ben Nelson, and has been trying to cast the deal as not-at-all-troubling. "It's not a special deal for Nebraska," Mr. Schumer said in defense of the bill on the Senate floor earlier in the week. "It is an opportunity to get rid of an under-funded mandate to all the states."
It's the junior senator's first statement on health care since editorials in the Daily News and the Post–along with Governor Paterson and Mayor Bloomberg–criticized both senators for neglecting New York's needs at the expense of sweet deals for other states. The Post, in particular, wondered why the Ms. Gilibrand wasn't doing more.
Well, it seems that that mouse just don't squeak. It doesn't seem to matter to her that a lot of the cash underwriting the Medicaid exemptions being dispensed by Reid will come from New York taxpayers.
(The Post, engaging in the unwanted speculation that Mr. Schumer might not want to hurt his chances of becoming majority leader next year, gives him an easier time.)
Naturally, Ms. Gillibrand insists the bill is good for New Yorkers. The full statement:
"Today is a great day for New York families. There are 2.7 million New Yorkers who are now one step closer to getting affordable, quality health care coverage, which will also reduce the hidden tax to New York for caring for the uninsured. Now, that is a historic Christmas.

"This legislation will provide coverage to 31 million uninsured people across the country and lower costs for everyone. In fact, 1.6 million New York residents and 249,000 small businesses will receive premium tax credits to help them purchase health coverage. America's small businesses will receive tax credits worth $37 billion. More than a half a million New York seniors who are currently being denied prescription drug coverage because they fall into the Medicare Part D "doughnut hole" will now get coverage for their medicine, saving New York seniors $1.3 billion.

"I worked hard to include the Medicare Advantage fix, which will save New York up to $7 billion and help hundreds of thousands of seniors. I also worked to ensure that the Senate bill does not cut teaching hospitals – a fix that saves New York an estimated $30 billion.

"And for New Yorkers and all Americans, this bill ends unscrupulous insurance practices. No longer will people be denied coverage for pre-existing conditions and no longer will one illness force families into bankruptcy. And, now, all preventative care must be covered by all insurers at no or low cost. This will save billions for New York because it moves us to a preventive care system and away from an emergency-based system.

"While this is a good bill, it is not perfect. I believe that a public option is the best way to reduce costs. I fought hard to defeat the harmful Stupak language, which would have put the lives of women and girls at grave risk and deny them their constitutional rights. I'm troubled by the Nelson compromise, but I believe it is still dramatically better than Stupak.

"There are aspects of the House bill that that would provide New York with more funding for Medicaid, and I am working closely with Majority Leader Reid, Senator Schumer, other Senators, and members of New York's Congressional delegation to adopt some of the House measures during the conference process.

"But make no mistake, this is a good bill for new Yorkers, and today we have taken a great step forward and all Americans will benefit."