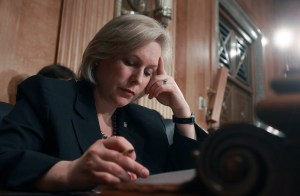 In a move designed to coincide with a "jobs summit" today at the White House, Senator Kirsten Gillibrand dashed off a letter to President Obama that calls for a tax credit to help businesses hire new employees.
The senator announced that she was sending the letter on a static-ridden conference call yesterday, and explained that she believes the $27 billion dollar proposal "could help create several millions of jobs over the next two years." She called it "the kind of bill that pays for itself."
Today, she sent a press release naming the six senators who've signed onto the letter so far: Democrats Russ Feingold, Carl Levin, Bob Casey, Debbie Stabenow, and Jeanne Shaheen, and Independent Joe Lieberman.
One name was conspicuously absent: that of New York's senior senator, Gillibrand's frequent champion Chuck Schumer.
Asked yesterday if she had spoken to Mr. Schumer about the letter, Ms. Gillibrand said she had not, but intended to talk to him later in day.
His absence suggests perhaps Ms. Gillibrand is hoping to craft her own record on job creation, independent of her towering colleague.
A spokesman for Senator Gillibrand e-mailed to say, simply, she "plans to discuss the proposal with him."