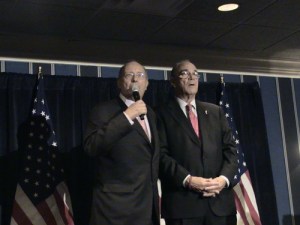 Mike Long, state chairman of the Conservative Party, said he "never believed" Rudy Giuliani was "going to run for Senate or governor."
Last year, Long and other conservatives weren't supportive of Giuliani's presidential campaign. This year, though, Long said he had been willing to "talk" with Giuliani about running for higher office.
Long also said Giuliani's withdrawal from next year's races shouldn't be seen as part of any larger tectonic shift in politics.
"I don't see this as a victory for conservatives. I see this as a personal decision. I don't see this as a win for anybody or a loss for anybody," said Long. Giuliani "clearly is a sought-after commodity by many, many people. He certainly has been an important voice for the Republican Party in the city and the state. And there was no contest that we were trying to get him out of the way."
Long went on to say that Giuliani "evidently doesn't want to be in the public domain any more."