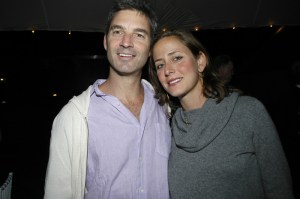 Daniel S. Loeb, the hedge-fund manager known for his $45 million 15 Central Park West penthouse, does not tend to fail. He conquers, and with style: "I will laugh at you fools for buying my shares," he once wrote, according to a complaint filed years ago, "and I will celebrate with a bottle of grappa."
But Mr. Loeb and his wife, Margaret, did not triumph over the movers who helped them get their stuff into 15 CPW. Last month, the couple settled a breach-of-contract suit that a moving, rigging and storage firm called Auer's filed against them, agreeing to pay $82,500 by the Sunday before this Christmas.
"Basically, the moving company was not paid, and the defendants, the Loebs, thought they were overcharged," the presiding judge, New York State Supreme Court Justice Emily Jane Goodman, told the Transom. "His wife was here in court, and she said that she felt that they were being taken advantage of because they had an expensive apartment and they had money."
Ms. Loeb graduated magna cum laude from Brown, and has a master's degree in social work from N.Y.U. "She was, I would say, a pleasant and appealing person," the judge said, "but she was very entrenched in this idea that she shouldn't have to pay this fee."
Eighty-six-year-old Auer's, whose clients include Jay-Z and MoMA, sued the couple in February for $98,689.07. The two sides met last month in Justice Goodman's chambers, along with lawyers and an armed officer. "The moving guy seemed very, very upset. He kept saying, 'We've been in business 80, 90 years, and nothing like this has ever happened,'" the judge said. "And she was sort of stuck on this idea that she felt—what can I say—taken advantage of somehow. And he was saying, 'We've spent so many days, so many hours, you have no idea what a difficult job this was.' Apparently, it's a very large apartment, and filled with furniture."
That day's talks weren't going anywhere, so Justice Goodman told the sides they'd have to come back the following Monday. "Ms. Loeb was not keen on returning, so she said the only reason she would settle it is because she didn't want to come back." But the Loeb-Auer conflict is not necessarily over: Their settlement refers to certain "items in storage" whose fates are unclear. Lawyers for both sides would not comment.