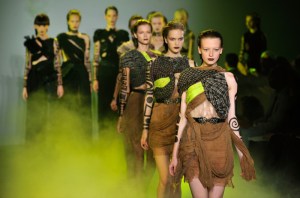 Items from Rodarte's eagerly anticipated Target line will be available at a Target to Go pop-up under* the High Line next week, reports The Cut. The line won't hit stores until the 20th.
Rodarte's elaborately ugly-chic textiles seem like a weird fit for the mass-market retailer–like neither the craft nor the aesthetic particularly lend themselves to strip-mall shopping (versus, say, a shiny little Proenza Schouler bustier).
But if a $49.99 sequin ribcage dress is the perfect gift for someone on your list: you are in luck, my friend.
*Not "on." Sorry.