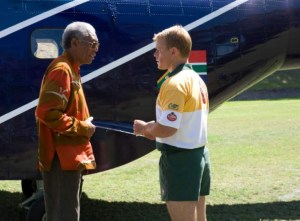 Invictus
Running time 134 minutes
Written by Anthony Peckham
Directed by Clint Eastwood
Starring Morgan Freeman, Matt Damon

If I went to Clint Eastwood's rousing, rah-rah Invictus with less enthusiasm than some of my colleagues, it's because I am weary of all these worthy filmmakers churning out movies about South Africa nobody wants to see, and I dreaded one more exposure to starving babies and racial violence. I am happy to report that Invictus has none of this. It's about sports and politics, and how South Africa's first black president, Nelson Mandela, combined both to close the gap between opposing black and white factions and lead his country to the 1995 Rugby World Cup title. The film is flawed, rambling and much too long, but in the end it leaves the audience cheering.
Invictus begins when Mandela (Morgan Freeman) is freed, after 27 years in prison, to govern a free South Africa. Twenty-three million people went to the polls and voted side by side, black and white, in a united effort to restore peace and world respect after decades of the hell known as apartheid. Mandela inherits a new country riddled with crime, unemployment, resentment, rage and fear. Tension reigns between the once-oppressed blacks and the hated white "Afrikaners" who are now a minority but are still in control of the police, the military and the economy. Desperate to build a "rainbow nation" based on compassion, restraint and generosity, the newly sworn-in Mandela's first bold move is to restore the national passion for rugby signified by South Africa's almost totally white team, the Springboks, defying his own cabinet in the process, and then enlisting the team captain, Francois Pienaar (Matt Damon), to help him heal the wounds of both the blacks and the whites who used to beat and torture them. The two men discover a lot in common: leading by example, meeting challenges with patriotic songs, and feeding each other the mutual inspiration to achieve racial harmony with a peace that is colorblind. Mr. Eastwood catalogs every strategy, game by game, and the last 40 minutes detail the day of the big match. Persuading Mr. Freeman to tackle the role of Mandela didn't require much arm-twisting. He craved it from inception, bought the movie rights to Playing the Enemy: Nelson Mandela and the Game That Made a Nation by journalist John Carlin, the book with the long-winded title on which Invictus is based, hired a transported South African now living in California named Anthony Peckham to write the screenplay and talked his friend Clint Eastwood into directing. So Mr. Freeman as Mandela is no accident. The casting seemed preordained. You could say the movie would never have happened without him. Although hardly accidental, the casting paid off. From everything I have seen of Mr. Mandela, and from the memories I have of meeting him personally on several occasions, Mr. Freeman gets everything right: the walk, the cadences in the voice, the out-front and straight-ahead posture and the inner radiance that connect his thoughts and his words with visible facial computations—many of the qualities that make Mr. Mandela an inspiring leader. You've heard about wearing your heart on your sleeve; Mr. Freeman's is reflected in his eyes. With American presidents, actors do caricatures. With Mandela, Mr. Freeman doesn't bother with impersonation. He merely activates the elegance and dignity within himself. The best thing about the movie is that he does it all without genuflecting or sanctifying a world leader who has always been, first and foremost, a man with a strong sense of humanity. The script makes it clear that Mr. Mandela is no saint. While he devoted himself to uniting a polarized nation, he neglected his family. His children resented him bitterly, two wives divorced him and there is evidence that he was no stranger to loneliness.
Matt Damon is more hobbled with accents than Mr. Freeman, and they don't all come together at the same time. Not exactly dream casting as the captain and star of the controversial Springboks, Mr. Damon first sounds French, then like a ratchety-voiced Afrikaner in a patois that is hard to understand, and almost always out of place. Unrecognizable in his little green and gold silk shorts with peroxided hair, bulging thighs and a white-bread weight gain, he's a big, blond, beefed-up Muscle McGurk. Having said all of that, I admit he is also sincere, dedicated and very worth watching. He must have spent the past two years locked in a gym.
The overuse of the South African national anthem gets boring; the movie needs a pair of scissors; and the use of obvious symbolism is often unsettling. Naming the movie after a corny poem Mandela reads aloud in a flashback to his prison cell is a stretch. O.K., we get the symbol of a changing society. But the scene of cops in a white patrol car parked outside the stadium who chase away a black street urchin and then share their radio with the kid as the Springboks head for victory, all of them screaming and hugging each other, suddenly oblivious to skin color, followed by a close-up of a white hand and a black hand clutching the World Cup together? Subtlety is not a strength here, but pandering to heart-tugging cliches in a Clint Eastwood film is downright embarrassing.
rreed@observer.com