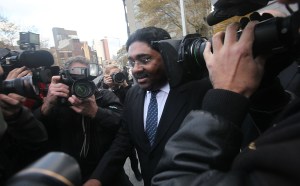 It sure sounds like it.
Reuters says B.J. Kang–he's the F.B.I. agent in charge of the bureau's securities task force who escorted Galleon head Raj Rajaratnam on his October perp walk–took a hard look at Steve A. Cohen's hedge fund, SAC Capital Advisers, two years ago. No charges were filed then, but the Galleon case might have opened a new angle against the company.
A cooperating witness, Richard Choo-Beng Lee, is expected to provide prosecutors with alleged evidence of insider trading he may have committed between 1999 and 2009 — a period that includes a five-year stint at SAC, according to the court documents.
And it all comes back to those terrifying wiretaps.
Lee's cooperation was secured in part because of incriminating evidence that federal authorities had captured from a government wiretap on his cell phone while working at San Jose, California-based Spherix Capital. (Kang oversaw the tap on Lee's phone.)
Last month, an SAC official said an internal review related to the Galleon case hadn't turned up anything out of the ordinary, but any indictment against SAC, which manages $14 billion dollars, would make the $20 million dollar Galleon case look like a handful of penny stocks.
And if the feds come to bear on the reclusive Mr. Cohen personally, it might just rattle another big market.