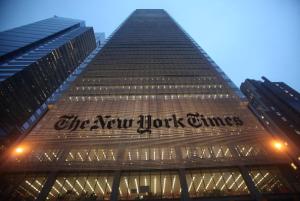 Layoffs hit The Times.
The Awl spars with J-school professors.
Marcus Brauchli enters the fray.
Rudy reassures Tiger.
Anthony Weiner has "compromised our compromised compromise."
Saks fires retail staff in a sketchy manner.
American Apparel: "We think this nail polish captures what American Apparel is all about."
Stephen Colbert supplements "Empire State of Mind" with a tribute to the Connecticut suburbs.
Steve Cohen gets another odd lawsuit.
Gawker is pleased to see Alec Baldwin and Pat Kiernan hanging out.
And Nick Denton is pleased about one Times' layoff.
MoMA will stay open late-ish on the first Thursdays of the next six months.
What it's like to encounter Axelrod.