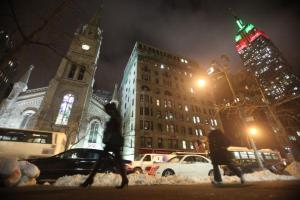 43 percent of Americans aren't in the holiday spirit.
Health care bill passes.
So does Mayor Bloomberg, who thinks it's kind of like "flim flam."
Some state attorneys general are planning to sue over the bill; Andrew Cuomo is not among them.
Tim Geithner writes Fannie and Freddie a blank check.
And their top executives might get $6 million checks for 2009.
Meanwhile, Bear Stearns had an alumni party.
Goldman Sachs is getting a hard look from the government?
Bernie Madoff is in the prison hospital.
"Devil is in the details" of Jimmy Carter's apology to Jews.