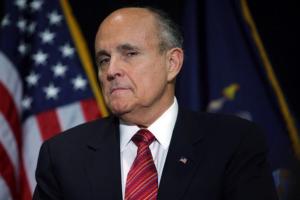 Rudy's decision? "Purely about 2010."
Some are crushed, others are not.
Surprise! A possible Rudy replacement gives Obama an "F."
Mayor Bloomberg pitches in $25 million of city money for new Frank Gehry theater.
Big private-equity fund sues big law firm over Marc Dreier letter.
Darth Vader rang the bell at the New York Stock Exchange this morning.
New Jersey hedge fund manager made $2.5 billion dollars betting on banks.
Rendering that new 57th Street tower.
New issue of Esquire is for sale on iTunes.