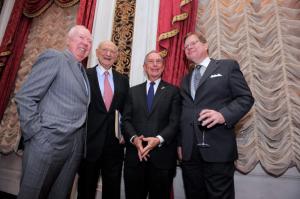 A recipe for way too much: Frank Bruni and Jonathan Safran Foer talk about food and sex.
Mayor Bloomberg gets to work on the McCarren Park Pool.
Looks like David Grann tidied up his protagonist's last words in that amazing New Yorker article.
Sonia Sotomayor issues her first opinion.
This does not bode well for the future of journalism.
60 Minutes got an Emmy for its profile of Ben Bernanke.
Wells Fargo's chief isn't promising to repay the bailout money anytime soon.
Bill Ackman is personaly auctioning off his apartment tonight at his apartment.
View luxury goods extremely large.
Fordham's garbage offends Lincoln Center neighbors.
The Museum of Natural History is now hosting sleepovers.
McSweeney's newspaper arrives.