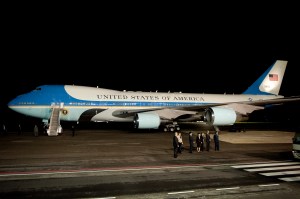 At least one reporter for The New York Times isn't thrilled that Huffington Post and Talking Points Memo are joining the White House press pool, reports Michael Calderone.
"This is really troubling," said New York Times reporter Peter Baker in an email to POLITICO. "We're blurring the line between news and punditry even further and opening ourselves to legitimate questions among readers about where the White House press corps gets its information."
This will inspire lots of meetings and considerable hand-wringing, but it seems like an inevitable evolution as major dailies cut back on their traveling coverage, and opinionated websites comes to replace them.
To put this controversy in perspective, you should attempt to suffer through this video of a pool reporter's day.