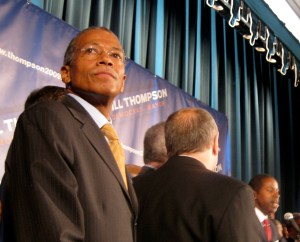 Fighting to force movement on a bill that would newly regulate commercial rents for small businesses, Councilman Robert Jackson has filed a rare motion to bring the legislation up for a vote before the City Council, according to three people with knowledge of the action.
The bill, the Small Business Survival Act, would inject a major set of new regulations into the rental process for small businesses, giving retailers and small office tenants a broad set of new rights in dealing with their landlords, and forcing arbitration on new leases when the two sides disagree over a rent. The Bloomberg administration opposes the bill, the real estate industry is vehemently against it, and Council Speaker Christine Quinn has been trying to avoid such a vote, as she has said she believes it would be tossed out by the courts. Small business groups, particularly those representing bodegas and corner stores, have been strongly pushing the bill, which is also supported by the Working Families Party. (Much more on the fight in a feature I wrote last week.)
The legislative action, called a motion to discharge, represents a major affront to Ms. Quinn, who did not want the bill voted out of the Small Business committee. The motion was filed Monday night, and, according to the Council's rules, it could be voted on at the next meeting of the full Council (which would be voting to remove the bill from the committee). Then a subsequent vote would be needed at the next full meeting of the Council after that, later in the month.
Just how the bill will fare is unclear. Thirty of the 51 members in the Council are listed as co-sponsors, a number that has dropped as opponents of the bill stepped up their lobbying. The motion to discharge would need at least 26 members, though just because someone is signed on in support of the bill does not necessarily mean he or she would support the unusual motion.
A motion to discharge is extremely rare in the Council.
With that said, it's familiar territory for this type of bill. One of the few other times the motion has been used in recent decades was June 1989, when West Side Democratic Councilwoman Ruth Messinger moved for a vote on a very similar bill regulating commercial rents, establishing arbitration.
Just like Mr. Jackson's bill, Ms. Messinger had a majority of the Council signed on in support.
The result: the motion failed.
Update 2:25 p.m.
In a lengthy statement just sent over, Ms. Quinn defended her position on the bill, and called for five policy actions to help small businesses, including new tax breaks, incentives for lease renewals and zoning changes. The proposals, she said, "are specifically targeted to solve the very serious problems facing small businesses today and do not have the legal and pubic policy problems of Council Member Jackson's legislation."
Here's the full statement:
The Council has a long and distinguished record of fighting to help small businesses. We have led the fight to do away with unfair double taxation on unincorporated small businesses saving an estimated $25 million dollars per year for New York small businesses. We have overhauled the way the Environmental Control Board adjudicates fines and we've put into action an aggressive set of measures to keep businesses open and thriving in a difficult economy. The Council has also established a small business regulatory review panel that will release its recommendations by this year's end.

Council Member Jackson's legislation before the Council, while well intentioned, is not within the Council's power. The bill raises significant legal issues that we do not think will survive a legal challenge in court. That would simply waste valuable time and resources at a time when we need to act on a critically important issue – the future of New York City small business. Furthermore, this bill would have numerous unintended consequences and has several unanswered questions.

Our focus to help small businesses remains steadfast. As a result of meetings and conversations with the small business community we have proposed new legislation that would avoid the problems with the initial legislation while still accomplishing a great deal for local business owners. The new legislation would:

a. Create a unit in Small Business Services that would be charged with assisting small businesses in lease negotiations;

b. Create a tax break for small retail businesses so that they may be removed from the City's General Corporation Tax;

c. Create a tax incentive for landlords to renew the leases of small retail businesses;

d. Ban key payments outside of the lease and give tenants a private right of action; and

e. Begin the zoning reform process with a view toward changes in the zoning laws that currently force small businesses to compete with large drug stores and bank branches for commercial street space in certain commercial strips.

These five proposals are specifically targeted to solve the very serious problems facing small businesses today and do not have the legal and pubic policy problems of Council Member Jackson's legislation. We will continue our ongoing process of finding innovative and effective proposals to address the real problems faced by small business owners in the City.
ebrown@observer.com