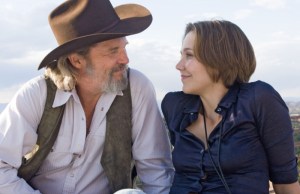 Crazy Heart
Running time 111 minutes
Written and directed by Scott Cooper
Starring Jeff Bridges, Maggie Gyllenhaal,
Colin Farrell, Robert Duvall
Jeff Bridges is not aging well, but when he stopped shaving, he started acting. The acting shows in Crazy Heart, an otherwise boring slice of country-fried steak with an exceptional performance by the gravel-voiced good old boy that raises the film several notches in the direction of unforgettable.
Bad Blake, a once-famous country western singing attraction now reduced to one-night gigs in bowling alleys, drives his truck into Santa Fe, pours out his urine from a gallon milk jug, slugs down enough whiskey to float a cargo ship and leaves the stage in the middle of his show to vomit into a garbage can. The next morning he rolls his gut out of bed and hits the road again, leaving a haggard fan behind in the motel sheets. It's a routine he knows by heart. Moaning in an inaudible croak like a cross between Tom Waits and Harvey Fierstein, he's a sort of first cousin to Robert Duvall's Oscar-winning role in Tender Mercies, a 1983 movie that was also about a down-for-the-count country singer trying to put the broken pieces of his wasted life back together. (Mr. Duvall produced Crazy Heart and plays a Houston bartender in it.) But Tender Mercies was supported on the literary columns of an Oscar-winning screenplay by Horton Foote, who knew how to take his time and examine his characters with a flashlight to the soul. When Crazy Heart takes its time, it's more like stretching a short story into a feature film. Well directed but sketchily written by actor Scott Cooper, the film relies a great deal on the star to flesh out what is only implied. It's a lot of work, but Mr. Bridges is merely miraculous.
A 57-year-old has-been who is slowly killing himself with alcohol and cigarettes, Bad Blake is also a variation on the revolting creep Mr. Bridges played in The Big Lebowski, as well as the white bearded, pot-bellied version in The Men Who Stare at Goats. The once handsome, clean-cut embodiment of reliable Hollywood aristocracy has just about got a patent on stumble-bum reprobates. Bad Blake refuses to reveal his real name or discuss his four failed marriages, but he's impressed enough with the pretty young reporter (Maggie Gyllenhaal) who comes to interview him after one of his shows that he takes her to bed, befriends her little boy and thinks maybe he's finally found the girl who could mean more to him than another meaningless one-night stand. But first, he's got a trying gig in Las Vegas as the opening act for his arch-nemesis Tommy Sweet (a miscast, unconvincing Colin Farrell). A lot of guitar-plunking Nashville crooning ensues, followed by a potentially life-altering decision. What happens in the 111 minutes of Crazy Heart can be written on the head of a bobby pin, but there's no arguing about the sweet impact of the central performance.
Whether you like the film depends on how much you like hillbilly music and Jeff Bridges. He's pretty dog-eared and over the fence by now, but he sings the original songs with real conviction, and there's something about him that's as down-home as a bowl of grits with sawmill gravy. Anyone who remembers his father, Lloyd Bridges, with the legendary Kim Stanley in both The Goddess and John Frankenheimer's Playhouse 90 production of Clifford Odets' Clash by Night knows he comes from great acting genes. His performance as Bad Blake—lonely but aloof, talented but self-destructive, desperate for roots but a victim of his own addictive demon—leaves no shadowy corner of a complex life unexplored. He's aging like a sweaty, chain-smoking King Lear.
rreed@observer.com