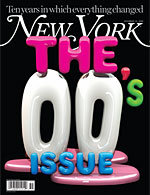 In today's Washington Post, Howard Kurtz brings to your attention: New York magazine.
While it seems like a big, fat, pegless loveletter to Adam Moss' New York (it's sexy, it's smart, it's local, it's broadly appealing), the piece ends on a melancholy note:
By conventional standards, New York is a success. It won five National Magazine Awards in 2007, including one for general excellence. But Moss has the nagging feeling that he doesn't quite measure up.

"When you take over the reins of a magazine that had once been legendary," he says, "you're always going to fail."
Now I'm picturing Adam Moss hunching his shoulders against a bitter wind and gazing into the horizon, and I still don't know why I'm reading about him.