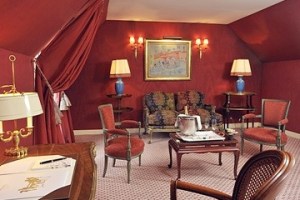 After a hectic day on the Champs Élysées, you'll find a perfect hideaway in the nearby Hotel Lancaster. Housed in a 19th-century private mansion, with 57 rooms and suites, this charming and discreet property is ideal for privacy-seekers—no wonder Marlene Dietrich was a frequent guest. It's been a hotel since the 1930s and is brimming with exquisite antiques and artworks ranging in periods from Rococo to Art Deco and beyond, and just a few years ago it was given a stylish facelift by talented French designer Christian Liaigre. I suspect Marie Antoinette would have felt at home amid the Louis XIV furniture, marble floors, oil portraits and rich drapery. Contemporary touches include WiFi, iPod docks, flat-screen TVs and marble bathrooms with heated towel bars. A highlight is the peaceful courtyard garden—a great spot for lunch. Renowned chef Michel Troisgrois oversees the Michelin-starred La Table du Lancaster restaurant, where the inventive French cuisine has Japanese flair, and the menu is ingeniously organized by such categories as piquant, zesty, sour and sweet. All in all, this is one of my favorite Parisian hotels.
Room rates from €490.
www.hotel-lancaster.fr | Phone: +33 (0)1 40 76 40 76
7 Rue de Berri | Paris 75008 France
Suzanne Aaronson, Co-founder of Suzanne's Files, is our Travel Curator. Stay in-the-know on her latest finds and insider tips by signing up to receive Notes from Suzanne's Files, a free e-newsletter.