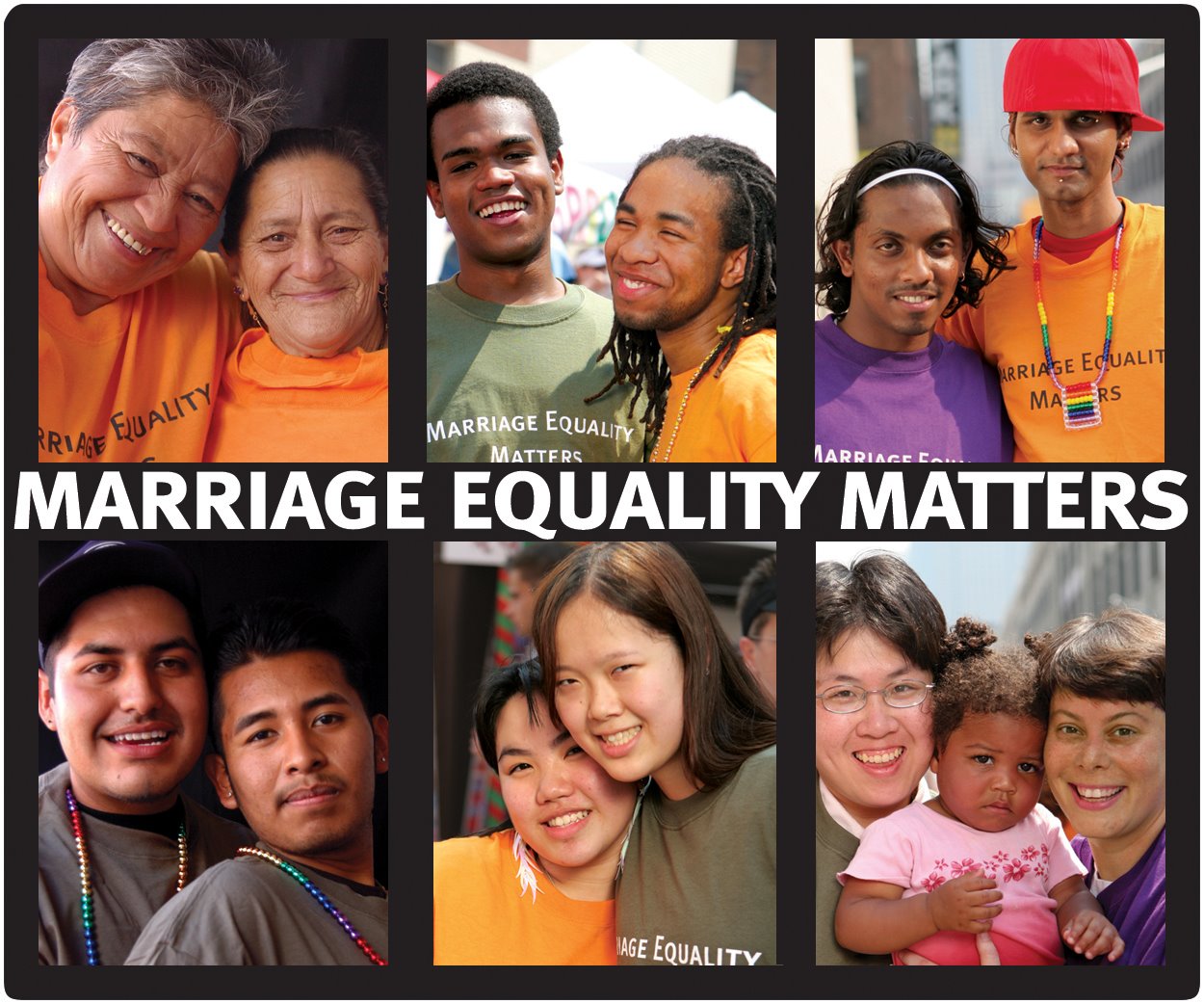 Let's be Democrats…and support Marriage Equality.

It's what we do.
This is from the DNC Platform, adopted at the National Convention just a year or so ago:

Renewing America's Promise Democratic Party Platform, 2008


A More Perfect Union

We believe in the essential American ideal that we are not constrained by the circumstances of birth but can make of our lives what we will. Unfortunately, for too many, that ideal is not a reality. We have more work to do. Democrats will fight to end discrimination based on race, sex, ethnicity, national origin, language, religion, sexual orientation, gender identity, age, and disability in every corner of our country, because that's the America we believe in.

That's what we believe in. The Republicans don't.
This passed week, here is what the NJ State Republicans supported, from the Politicker column of Richard J. LaRossa "Money Trumps Principle"

"Let me start by saying that there was a big victory for movement conservatives at the Dec. 1 2009, NJGOP meeting that was held at the Hyatt Regency in Princeton, NJ.

Led by recently elected state committeeman, Rob Eichmann from Gloucester County, conservatives were able to get a resolution adopted by the NJ State Committee, regarding same sex marriage. Thanks to Committeeman Eichmann, the NJGOP has officially taken a stance against a same sex marriage vote in Lame Duck and is officially in favor of placing the issue on the ballot to let the people decide. That motion was adopted unanimously!"

He called it a "big victory for movement conservatives".

We promised equality to those of different sexual orientation. The NJ State Republicans have officially taken a stance against same sex marriage. And "That motion was adopted unanimously!".

LaRossa thought that deserved an exclamation point. I think it deserves an asterisk, as a footnote as to the difference between our two parties.
So, come on Democratic Party folks in the Senate. Remember why you're Democrats. We believe in equality. They don't.

Let's keep our promise on equality. It's what we do.