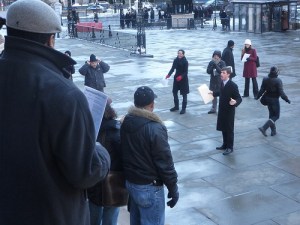 Here's councilman-elect Steve Levin of Brooklyn leading a rally for affordable housing on the City Hall steps.
The crowd is mostly from Brooklyn and here in suport of the plan for Broadway Triangle, which is supoprted by Levin's old boss, Brooklyn Democratic County Leader Vito Lopez. The plan also has support from a number of Coucil members, but is opposed by another former Lopez aide, City Councilwoman Diana Reyna. Also, Councilwoman Rosie Mendez seems at least skeptical of the grassroots support advocates for the plan are claiming.
It's up for a vote today and I think will pass, but with a smaller margin than most other major land-use issue that hit the City Council recently.