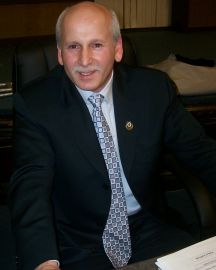 In what amounts to a solid coup for the incumbent, Paterson Second Ward Councilman Aslon Goow said he won't run for mayor again next year and likely won't back anyone who runs against Mayor Jose "Joey" Torres.
A fierce, longstanding antagonist of Torres's who was defeated in the 2002 mayor's race and in 2008 withstood an onslaught by the Torres political machine, Goow stopped just short of completely embracing the mayor today in a conversation with PolitickerNJ.com.
"I think the mayor we have now is moving the city forward ahead in the right direction," said Goow, who has a civil rights lawsuit pending against the city that stems from an incident in which the citizen lawmaker spearheaded a car pursuit of burglary suspects beyond city limits.
"Whether I get behind him or endorse him down the road is another story," added Goow, who lives in the same ward as Torres.
"It is what it is. He's addressing public safety and complying with my recommendations for new fire trucks. We've invested millions in fire equipment, which resulted in Paterson being named the number one fire department in the country for response time. We've got a new canine unit now, a gun detection unit. This mayor has hired more police officers and promoted more police officers than anyone. We have a new radio command center and cameras throughout the city. He's on top it, let me tell you. We've had renovation of fields and parks, more roads repaved under this guy, the Route 20 corridor, and downtown redevelopment with the City Center project and Loews and Home Depot."
So far, Council President Jeffrey Jones and Ward 6 Councilman Andre Sayegh are the two formally declared challengers to Torres in the 2010 mayor's race.
"Everybody else is only talking about enhancing what the mayor is doing," said Goow, whose decision to stay out of the contest may be doubled up in Torres's favor if At-Large Councilman Rigo Rodriguez reaches the same conclusion and decides not to run.