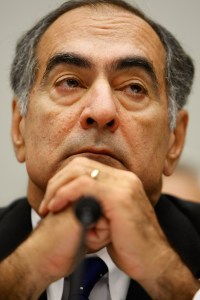 This morning, John Mack, the C.E.O. of Morgan Stanley, put a little more pressure on all his fellow executives by announcing that he won't take a bonus this year.
"Given this unprecedented environment and the extraordinary financial support governments provided to our industry, as the leader of this Firm I recommended to the Compensation Committee of the Board last week that I receive no year-end bonus," he wrote in an internal memo that Dealbook got its hands on.
It's the third straight year Mack hasn't taken a bonus, after he took the largest bonus in Wall Street history in 2006—a $40 million dollar package of stock and options.
Morgan Stanley already has a bonus program that takes a three-year view of employee performance—and includes a dreaded clawback provision—but Mr. Mack's decision raises an interesting question for other C.E.O.s: If they take one for the team, might it be enough political cover for everyone else to get a big bonus?