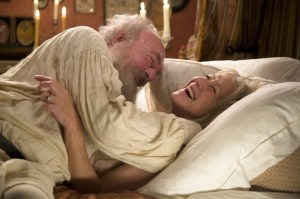 The Last Station
Running time 112 minutes
Written and directed by Michael Hoffman
Starring James McAvoy, Christopher Plummer, Paul Giamatti, Helen Mirren
Let the drums roll. The arrival of a movie with as much intelligence and artistry as The Last Station should also be accompanied by the sound of trumpets. For the legions of movie lovers who lament the passing of great filmmaking, don't give up yet. This one is for you.
A period costume biopic about the last days of the magnificent Russian novelist Leo Tolstoy may not seem like box office gold in the age of aliens and teenage vampires, but the author of War and Peace and Anna Karenina is still considered one of the greatest writers who ever lived, and his story is filled with the turbulence and drama that makes for epic grandeur; attention must be paid. With lush landscapes, gorgeous clothes and estates and fabulous acting by a distinguished cast headed by Christopher Plummer and Helen Mirren, this film has so much to savor and applaud that I scarcely know where to begin. Yet The Last Station is never arch, stuffy, highbrow or remote. It never keeps the audience at a distance. There's no question that a historical drama about the death of a Russian icon will be a hard sell. But, written and directed with skill, sensitivity and humor by Michael Hoffman, it is as entertaining as it is literate. I find it rapturous and perfect.
The year is 1910, Russia is feverish with visionary Communists, the smell of revolution is in the air and everyone keeps a diary. (The movie is based on the 1990 novel by Jay Parini, which, in turn, was based on the diaries of all the characters involved.) Tolstoy (Mr. Plummer), who heads a pacifist movement that preaches passive resistance, truth, freedom and sexual abstinence, and eschews Russian royalty, free thinking, organized religion, the accumulation of wealth, the owning of private property and eating anything but vegetables, is caught in a tug of war between a scheming disciple, Vladimir Chertkov (Paul Giamatti), a rabid Trotskyite who persuades him to leave all of his royalties to the Russian people, and his wife of nearly 50 years, the Countess Sofya (Helen Mirren), a jealous, overripe and hysterical drama queen who demands that he will his estate to his family for posterity. She loves her husband, but does not worship him as a spiritual prophet of God. In fact, she knows his character flaws so well that she cannot bear any more talk of hero worship, or giving away their land to the peasants. She wants to protect the works of Tolstoy for her children's inheritance and considers Chertkov a phony sycophant and an evil influence with political ambitions of his own. "If I had a wife like you, I would have blown my brains out—or gone to America!" yells Mr. Giamatti in a clownish outburst of the kind of eye-rolling overacting that has become his trademark.
Caught in the middle is Tolstoy's new secretary, Valentin (James McAvoy, from Atonement and The Last King of Scotland), a dedicated follower of Tolstoy's doctrine who falls from grace in the arms of a beautiful servant (Kerry Condon), who initiates him in the pleasures of sex, to the thrill of Countess Sofya. After his wife tries to drown herself in a lake, the great writer leaves home, but falls ill in a lonely country railway station in the middle of the Russian winter, with Sofya at his side. This scene demonstrates pure poetic license; the Countess was never permitted to visit her husband's death bed, although the Russian senate did award her all of Tolstoy's copyrights four years after he died.
The Last Station brims with revelations about the human lives and the culture the Russians sacrificed in the name of Communist idealism. It is full of ideas, clearly detailed and vividly acted by an exemplary cast. Mr. McAvoy grows sympathetically from a tender, star-struck Valentin, deployed to spy on the countess but winning her confidence and friendship, to a man of the world, losing his faith in Tolstoy as a saint and losing his virginity in the bargain. Ms. Mirren, who is half-Russian herself, plays the flamboyant Sofya with fire and ice, igniting the screen with warmth, poise, ecstasy and intoxicating intensity. Amid the waxed mustaches and astrakhan hats, Mr. Plummer is magnetic as Tolstoy—stooped, bearded and snowy as the landscape. His memorable death scene, on the level of King Lear, is the apogee of what great acting aspires to be.
The Last Station opens this week for a seven-day trial run to qualify for Oscars, then returns on a regular basis in January. Do not wait. Experience the adrenalin rush early. This movie is passionate, profound and unforgettable.
rreed@observer.com