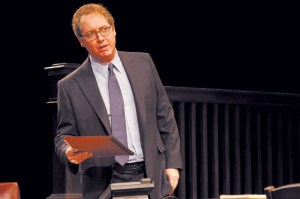 David Mamet's new play is here! The play that was to be Mamet, back in classic Mamet form! With a plot so incendiary that nothing about it could be revealed before performances started! With its poster and Playbill cover featuring only a simple, sexy shot of a shapely black woman's legs in a slinky, red-sequined dress, sitting on the edge of a hotel-room bed! Controversy!
There's only one problem with this carefully marketed plan: Race, Mr. Mamet's sure-to-be-great new play, isn't great at all. It's not even very good.
The curtain comes up at the Ethel Barrymore Theatre, where Race opened Sunday night, on a stylized Santo Loquasto set of a looming book-filled law-firm library, plopped like a diorama—this is an educational lesson, after all—in the center of an otherwise bare all-black and starkly lit stage. Four actors—two middle-aged white men, one middle-aged black man and a younger black woman—are in that conference room, awkwardly already in mid-conversation. (Mr. Mamet directs his play, yielding pacing and placement often as stilted and abrupt as his famous dialogue.)
The well-known and powerful billionaire Charles Strickland (misplayed by Richard Thomas, who never seems either powerfully angry or powerfully dismissive) is in the lawyers' office, attempting to hire them. He has been accused of raping a young black woman in a hotel room, which he denies. Jack Lawson (an excellent James Spader, who it could be argued has been training his whole career for this role) is the cynical and brilliant litigator he wants to represent him, and Henry Brown (David Alan Grier) is Lawson's black law partner, which makes this firm a good choice for Strickland, considering the accusation. Susan (Kerry Washington) is a young black associate at the firm, the novice to whom Lawson can pontificate—and to whom Mr. Mamet can make his arguments. It is she who, as the wobbly third leg of the firm, will be the center of Mr. Mamet's usual swirl of possible treachery and double-crossing.
The first act has Lawson and Brown discussing whether they want to take Strickland's case, and, with Susan, whether they think he's innocent or guilty. (Don't lawyers specifically not do that?) This provides Mr. Mamet the opportunity to put in his characters' mouths—especially Lawson's—his theories about guilt and innocence, truth and perception, back and white. All black people hate all white people, all white people are guilty; everyone feels all sorts of guilt and shame, truth is flexible and a smart lawyer's skill is to manipulate all that.
It's all rendered with Mr. Mamet's expected verbal pyrotechnics, but the inherent pleasure of virtuosity aside, the fireworks fall flat. The play is reveling in its subversive political incorrectness, but political incorrectness hasn't seemed flamboyantly subversive at any point in this new century.
In the second act (the roughly 90-minute play includes what the Playbill notes is a 12-minute intermission), things make less sense. When it turns out Strickland's accuser is a prostitute, Lawson announces he won't reveal that fact to the jury. (Huh?) When it appears that associate Susan has sold out the defense's strategy to prosecutors, Lawson's partner, Brown, reminds us that he never liked her, pulling her college thesis from his desk drawer (conveniently handy!) and announcing its title, "Structural Survivals of Racism in Supposedly Bias-free Transactions" (conveniently suspicious!).
When word comes that the hotel maid has amended her testimony to police, undermining Lawson's planned defense, we're to understand that it's a false statement, proof that the prosecution is onto his strategy. But when word comes that the responding police officer has found a lost page of his report, also undermining the defense, this revelation is presented as an honestly lost-and-found document (confusing!).
Race is an intriguing play, and far better than Mr. Mamet's last Broadway effort, the mediocre sitcom November. (It's also much better than "Keep Your Pantheon," the main piece of The Two Unrelated Plays By David Mamet, which played at the Atlantic earlier this season.) Ultimately, this is not thought-provoking Mamet so much as a parody of it.
IN THE LAST CARGO CULT, MIKE DAISEY'S most recent monologue, which opened Monday night at the Public, Mr. Daisey talks about traveling to the small, primitive South Pacific island of Tanna to visit a culture almost entirely different from our own, one of communal living, with no private property and—more important—no money. He's going there to witness John Frum Day, an annual religious celebration of the island's John Frum's cargo cult, a religion based on Tanna's brief exposure to American servicemen during World War II. On John Frum Day, the people of Tanna celebrate by recounting U.S. history—or at least their version of it—in song, dance and theater.
Mr. Daisey is a funny, insightful, magnetic storyteller, and his travelogue—tales of flying to Tanna on a ramshackle plane, eating local delicacies, sleeping with a baby pig—are hilarious. They're also not really the point. Mr. Daisey is concerned with money, how Tanna survives without it and how much we rely on it. He's angry about the financial crisis; he's angry at the bankers who created it; and he's particularly angry to realize that the financial system has us all interconnected, that he can't revel in the bankers' misfortune because what's bad for them is bad for him, too.
He weaves several stories together—of the Tanna trip; of arriving at college and first being exposed to rich people; of all the "awesome stuff" in the world he wants and which require cash—to make us think about the role of money.
And you do think about it, for the time you're in the theater. Thinking about money is like thinking about air; you don't need to, because it's everywhere. More likely, what you will thinkk about Cargo Cult after you walk out of the theater is what a pleasure your last two hours have been.
TO SEE SO HELP ME GOD!, A LONG-LOST and very funny 1929 backstage comedy being presented by the Mint Theater Company at the Lucille Lortel, is to wonder why this one was forgotten while so many boring old backstage comedies—The Royal Family, currently at the Manhattan Theatre Club, for example—were remembered.
So Help Me God! is a witty and goofily screwball old-fashioned three-acter written by Maurine Dallas Watkins, who a few years earlier had written the play Chicago. (The Kander and Ebb musical arrived a half-century later.) It was set for an October 1929 opening, but the Great Depression interfered. This production, with a script adapted by Mint artistic director Jonathan Bank, who also directed, is essentially its premiere.
It's an All About Eve story, but one in which Eve is outflanked by Margo. Kristen Johnston is fantastic as Lily Darnley, the domineering diva, a 6-foot-tall force of nature in dramatic deco gowns (the costumes, I should disclose, are by my friend Clint Ramos) who casually molds people and situations and the plot of the play-within-a-play to fit her needs. My Girl star Anna Chlumsky is less strong in the Eve part, flat and insufficiently steely as she plots her rise. But the rest of the cast ably supports, especially Catherine Curtain as Belle, the blowsy broad in the company, and Jeremy Lawrence as the put-upon stage manager.
The characters are deadly serious in their backstage machinations, but, for us, it's a fun (if slight) night at the theater.
MELISSA JAMES GIBSON'S THIS, WHICH OPENED at Playwrights Horizons last week, is poorly named but impressively written, a smart, funny and affecting play about four old friends (and one sexy new addition to the group) who wrestle with changing lives as they grow up and, as people do, grow both together and apart.
Jane (Julianne Nicholson), Marrell (Eisa Davis) and Alan (Glenn Fitzgerald) were classmates at an unnamed but elite school; they've remained tight for 15 years. Tom (Darren Pettie) was a staffer at the college; he's married to Marrell and together they have a newborn son who won't sleep for more than 15 minutes at a time. Jane has a daughter, too, and a husband who died a year earlier; Alan is gay and single and wittily self-lacerating. Finally, there's a Jean-Pierre (Louis Cancelmi), a handsome French doctor-without-borders ("I always think that makes it sound like he has a messy personal life," Alan snarks), who becomes enmeshed with the group as Marrell tries to fix him up with Jane.
Marrell and Tom are drifting apart, their distance exacerbated by the stress of young parenthood. Jane is exhausted by the world's sympathy and pity, and by the idea she had an ideal marriage until her husband got sick. Alan is lonely and bored and desperate to do something useful in the world. Jane and Tom fall into a brief affair. Tom doesn't want Marrell to know because he can't deal with the repercussions; Jane doesn't want Marrell to know because she can't stand to hurt her. There are kinds of unhappiness, Marrell tells Jane at one point, "personal, marital, professional, existential or interdisciplinary." Her own, she continues, is interdisciplinary. All of their unhappiness is interdisciplinary.
The unhappiness is also honest, and real, recognizable to us all if not in specifics then at least in spirit, intelligently rendered in sharp and wise dialogue. Together with another Playwrights production, Circle Mirror Transformation—which after being twice extended in the fall returns to Playwrights' upstairs space, the Peter Jay Sharp Theater, next week—it's one of the best new dramas of the season.
THE NEW A STREETCAR NAMED DESIRE, which opened at the BAM Harvey Theater last week, is every bit as good as you've heard. What more is there to say? It's the classic and powerful Tennessee Williams play; Cate Blanchett gives a mesmerizing performance as the delusional faded Southern belle Blanche DuBois, and Joel Edgerton is hunky and duly animal (if, sometimes, a bit too Brando-sounding) as Stanley. The Liv Ullman-directed production, originally staged at the Sydney Theatre Company, is only here through Dec. If you can still find a ticket, go.
editorial@observer.com