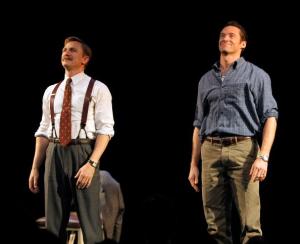 It's been an "unusually active but brutal" season on Broadway, Bloomberg reports.
Of the fall's many anticipated productions, only A Steady Rain (with Hugh Jackman and Daniel Craig), appears to have made much money. Among the casualties: the extensively analyzed Simon revival, and at least half of the Mametstravaganza. It remains to be seen how Mamet's Race—combining attractive celebrities with theater buzz—will fare.
Rain apparently shows us the "wave of the future":
Fred Zollo, the lead producer of A Steady Rain who works both on Broadway and in Hollywood, announced a deal with Broadway's biggest landlord, the Shubert Organization. Zollo and his investors will supply big stars and brief runs; Shubert will guarantee a great theater.

In Hollywood, it's known as a housekeeping deal, where a studio gives office space to a producer in return for first dibs on new projects. I expected other producers to howl over the arrangement; instead, most cheered it.
Also, "more Hollywood star-driven shows for limited runs."