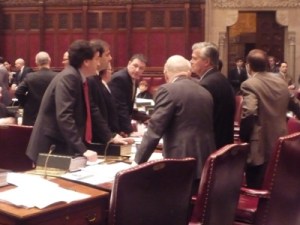 ALBANY—Does anyone like this deficit deal? Anyone?
Below are the roll calls from the State Assembly, where a measure to offer amnesty to delinquent taxpayers passed with only two dissenters—Republicans Jim Hayes and Will Barclay. The two other bills comprising the deficit reduction plan passed 106-32, largely, though not completely, along party lines. It happened around dawn; few people were there to watch.
But in the Senate it wasn't close. The tax amnesty passed 62-0, and only three senators voted against the other components of the plan: Ruben Diaz Sr., a Bronx Democrat, and Republicans Andrew Lanza and Frank Padavan.
"We were told time and time again that there would be no cuts to OMRDD [Office of Mental Retardation and Developmental Disabilities], that would impact negatively on providers of group homes and community-based facilities throughout the system," Padavan told me this morning. "Throughout the day that was changed, and I felt that was wrong."
Padavan said that the current budget, originally passed in April with no Republican votes in the Senate, set up the mid-year imbalance. Other Republicans—and Democrats—supported the plan because it did not contain painful mid-year cuts to schools.
Even David Paterson has belittled the deficit agreement (which he says he'll sign) for not going far enough. Padavan echoed that sentiment. And Tom DiNapoli, the comptroller who joined Paterson in sounding the fiscal alarm, said, "Albany shouldn't pat itself on the back."
"The Legislature has taken a positive step toward narrowing this year's budget gap. But Albany shouldn't pat itself on the back," DiNapoli said. "The deficit reduction plan approved today hasn't solved the State's long-standing structural imbalance between revenue and spending. Spin ups and one-shot revenues are like aspirin; they may ease a little of the pain this year, but the patient still needs surgery."
"We need to closely monitor revenues and spending to see if the DRP will get us through the end of the fiscal year," DiNapoli continued. "The State continues to face a significant gap heading into next year's budget. Taxpayers deserve honest numbers and realistic budgets. Moving forward, we have to make sure they get just that."