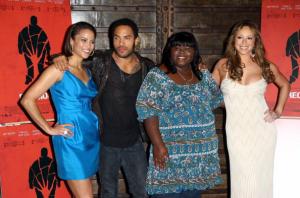 A shameful day for the guards of Rikers Island: they are either sleeping on the job or sleeping with the job.
The Post has a photograph of infirmary officer Nadja Green napping at her desk, "clearly conked-out," as an inmate poses beside her. The Correction Officer Benevolent Association hesitates to condemn her, as perhaps there were extenuating circumstances. A "prison source" tells the Post that Green was "the Precious of corrections."
Regardless: "she will face charges of sleeping on the job and other security- and performance-related charges."
And fellow guard Doreen Baker may be fired for having an "improper relationship" with an inmate, reports the Daily News. The inmate, identified as "Hunter," called Baker's cell more than 170 times from jail, and moved in with her when he was released in March 2008. Baker told investigators that Hunter was in fact dating her daughter. An Administrative Law Judge found this claim implausible.
The Correction Officer Benevolent Association told the Daily News that it does not believe Baker should be fired.
Meanwhile, increased security measures mean that transportation will be both safer and and more difficult for New Yorkers. The Daily News reports that Commissioner Raymond Kelly has announced plans for a greater police presence at airports, on subways, and on the streets, especially around New Year's. Kelly promised that the department will "always assume the worst."
Mayor Bloomberg, however, remained undaunted:
Mayor Bloomberg urged New Yorkers not to fear. "I can tell you I will be in Times Square with most of my family," he said. "It's a safe place to go."
Should one attempt to play a little fast and loose with the transit system, one may now face a public hearing. According to the Post, a judge has ordered the M.T.A. to open its hearings on minor violations, such as turnstile-jumping. Defenses commonly cited at the hearings include "'bowel or urinary problems," "mental or medical problems," "children's fear of their parents finding out and convicted criminals worried about violating parole or probation."
And the Post reports that a Brooklyn "travel agent" defrauded his Russian-immigrant clientele of more than $26,000:
Prosecutors said Galin gave all of his alleged victims receipts for their purported purchases of vacation cruises and flights to places as near as Mexico and as far as Russia. One victim arrived at the airport, bags packed and ready to go, only to learn she'd been had, prosecutors said.